INVEST: MARKET CONFIDENCE MAKES A COMEBACK
Q1 Brings Welcome Change to San Diego Life Science Stocks
Sunday, April 7, 2019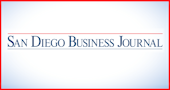 San Diego life science stocks largely recovered in the first quarter after taking a beating at the end of last year.
Locally, public life sciences companies gained 20 percent on average from Dec. 31 to April 1, according to a San Diego Business Journal analysis of 39 stocks during the period.
This followed stocks plummeting 27 percent in the fourth quarter of last year, part of a larger sell-off, and investors were more selective in small- and mid-cap biotech.
But market confidence has since grown, extending to San Diego life sciences.

Here's a rundown of a few notable stocks during the first quarter.
Going Gangbusters
Acadia Pharmaceuticals
Market Cap: $3.38B
Stock symbol and
exchange: ACAD on Nasdaq
Change during the quarter: +69%
Acadia Pharmaceuticals posted increased sales of its drug nuplazid in recent fourth quarter results, released in February.
Sales of nuplazid — Acadia's only drug on the market — rose 37 percent year-over-year to $59.6 million during the quarter, according to the company. Nuplazid won approval in 2016 to treat hallucinations and delusions caused by Parkinson's disease.
And doubts over the drug appear to have further dissipated, after the U.S. Food and Drug Administration last fall reaffirmed nuplazid following a reexamination. .
The company wants to expand the use of nuplazid in other indications, with multiple clinical trial developments anticipated in 2019. Midyear, the company will announce late-stage results for the drug in schizophrenia.
Going Gangbusters
Mirati Therapeutics
Market Cap: $2.49B
Stock symbol and exchange: MRTX on Nasdaq Change during the quarter: +67%
On the eve of the annual J.P. Morgan Healthcare Conference earlier this year, Mirati delivered good news to investors.
It was announced Mirati will test sitravatinib, its lung cancer drug, in combination with Bristol-Myers Squibb Co.'s drug nivolumab in a late-stage trial, or phase 3. Bristol-Myers Squibb will provide nivolumab at no cost.
In addition to the partnership, Mirati won over investors with a presentation on its drug development pipeline.
In October, Mirati's stock sunk after phase 2 sitravatinib results. But followup clinical trial data in late November hit a key patient benchmark, boosting analysts' confidence in the stock.
Troubling Times
Ra Medical Systems
Market Cap: $48.35M
Stock symbol and exchange: RMED on Nasdaq
Change during the quarter: -54%
Ra Medical went public in September at $17 a share, but its stock has fallen since, and financials played a role.

The company — which makes a laser catheter to treat a disease known to lead to amputations — posted a $14.9 million net loss in fourth quarter results that came out in March. Its net loss during the prior year period was $3.1 million.
"During our steep ramp in the back half of 2018, we experienced certain issues that had an impact on our fourth quarter revenue," said CEO Dean Irwin in a statement accompanying the results.
The company found it needed more robust training for sales personnel, and Ra Medical experienced manufacturing limitations as it scaled up catheter production.
"We believe we addressed those issues and will begin to see the positive impact on revenue beginning in the second quarter of 2019," Irwin said.