Malls Seek to Be More Than Just Shopping Stops
Sunday, April 7, 2019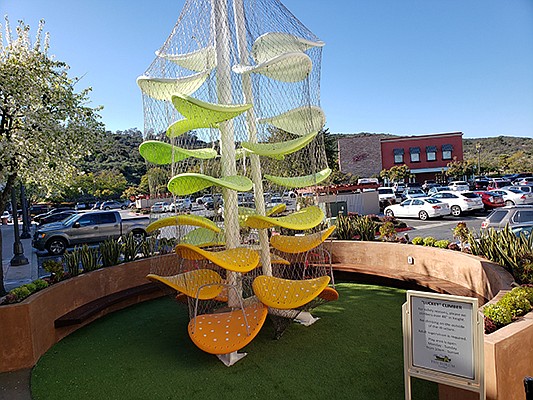 Last month, The Forum Carlsbad became San Diego County's first location to add a Luckey Climbers play structure to its mall space.
Created by Luckey LLC, a design-build firm based in New Haven, Connecticut, Luckey Climbers are children's climbing sculptures created for institutional and commercial spaces worldwide. The structures are made of bent plywood or molded plastic platforms that resemble potato chips, suspended by steel pipes and cables and collectively covered by a giant net.
Malls like The Forum Carlsbad continue to stay at the forefront of the experiential retail trend, remaining increasingly creative with their offerings to keep consumers engaged. Customers are no longer enticed to physically shop at malls for the retail aspect alone. Shoppers of today want services that go beyond what is traditionally expected, including good food, entertainment and other services.
Raj Chandani, associate director of The Forum Carlsbad, said since the boom of omnichannel shopping options like Amazon, many retailers have had challenges with getting shoppers to drive to the centers and shop.
"The past couple of years, we really focused on adding unique amenities and annual seasonal events that catered to our shopper and were cohesive with our retail offerings," he said, adding that the approximately 265,000-square-foot space currently has 60 merchants ranging from retailers, fitness studios, health and beauty services and casual dining. Some of the unique and popular seasonal events were the makers' market and spring fashion show, Art Rhythm & Wine Festival and a holiday tree lighting ceremony.
Aside from the Luckey Climbers, The Forum Carlsbad is in the process of adding a 1,200-gallon, 13,000-pound saltwater fish tank to its location. The tank, currently under fabrication, will go in the common area outside Anthropologie's flagship store, said Chandani. He added that overall sales at the mall are steadily growing in single digit percentages, year-over-year.
Tim Kilcourse, general manager at Otay Ranch Town Center, said today's consumer continues to evolve, therefore the malls must follow.
"We've evolved from a traditional shopping mall to meet their changing needs," he said. "We strive to provide everything under one roof for our guests and this goes far beyond apparel."
In addition to many of its key retailers such as Apple, Macy's, Sephora, H&M and Best Buy, Kilcourse said Otay Ranch Town Center, located in Chula Vista, continues to bring new and exciting options to its guests. This includes multiple fitness centers, a library, a grocery store, a dog park, a veterinarian, pediatric dentist, day care, restaurants, a movie theater as well as events throughout the year. The latter includes a weekly farmers market, an annual prince and princess party and its Dog Gone Good Fun event.
The focus of Otay Ranch Town Center's experiential reimaging has been the addition of its fitness component, Kilcourse said, dropping names such as Orange Theory Fitness, Title Boxing, Deseo Dance Studios, Namaste Fitness, San Diego Gymnastics and Aqua-Tots Swim School. "We are also really excited for the upcoming openings of Planet Fitness and Club Pilates," he said.
Kilcourse said Otay Ranch Town Center has seen a year-over-year traffic increase and hopes to see continued increase as the neighboring community of Eastlake, among others, continues to grow, thus increasing the mall traffic.
Miro Copic, marketing professor at San Diego State University, said malls and shopping centers need to continue to be reinvented in order to become a destination for visitors.
"Through being experiential, malls are trying to provide different ways to entertain shoppers beyond going there just to shop," he said, adding that malls need to be all-inclusive places where visitors can work out, grab a bite, maybe go to a movie and, afterwards, have a drink.