Private Equity Firm Acquires Jenny Craig Inc.
Thursday, April 4, 2019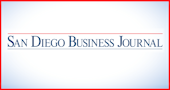 Private equity firm H.I.G. Capital acquired Carlsbad-based weight loss company Jenny Craig on April 4. The Miami-based private equity firm acquired Craig Holdings Inc. from North Castle Partners for an undisclosed amount.
"H.I.G. will enable Jenny Craig to continue successfully delivering our time-tested programs to millions of customers while expanding both our reach and breadth," Jenny Craig CEO Monty Sharma said in a news release. "We are very excited about the future of the Company and believe our clients and employees will benefit greatly from H.I.G.'s support, allowing Jenny Craig to attain its next level of growth."
Genevieve Craig founded the eponymous business in Australia in 1983. Two years later, she and her husband incorporated the business in the U.S. after moving to North County.
In 2006, Nestle acquired Jenny Craig for $600 million. It sold the company to North Castle Partners seven years later.
Jenny Craig's program includes prepackaged meals and access to a consultant for a monthly fee. It has 500 company-owned and franchised locations in North America, and 600 worldwide.
Sharma will stay on as Jenny Craig's CEO after the acquisition.