GA-ASI to Build Aircraft for Spain in $34M Deal
Thursday, April 4, 2019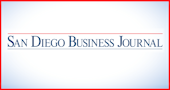 The U.S. Air Force, acting on behalf of the government of Spain, awarded General Atomics Aeronautical Systems Inc. a $34.3 million contract for two MQ-9 Block 5 unmanned aircraft and associated equipment. GA-ASI builds the aircraft in Poway.
The MQ-9 model is known as the Predator B, Reaper or Guardian.
The Air Force Life Cycle Management Center at Wright-Patterson Air Force Base in Ohio awarded the deal, announced March 29.