Belgium Moves Closer to $600 Million Reaper Deal
Thursday, April 4, 2019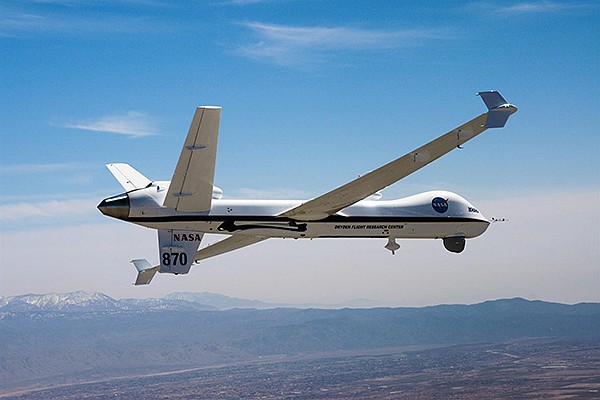 General Atomics Aeronautical Systems Inc. is getting attention from a NATO ally and the aviation community at large.
Belgium is closer to getting its own version of the Reaper remotely piloted aircraft. A deal worth an estimated $600 million is in the works.
The U.S. State Department approved the potential deal between Belgium and the Poway-based company. The Pentagon's Defense Security Cooperation Agency notified Congress on March 25 and issued a public announcement a day later.
The version of unmanned aircraft that Belgium wants to buy is the MQ-9B SkyGuardian. The Pentagon notice said Belgium wants to buy four aircraft and two ground control stations. Onboard electronics will include specialized sensors (multispectral targeting systems and synthetic aperture radars); embedded GPS and inertial navigation systems; and detect-and-avoid systems. The five-year, $600 million deal would also include spares, training, engineering and logistical support.
The notice does not mean the sale has concluded, the Pentagon office said.
Separately on March 14, GA-ASI — along with partners NASA, Honeywell International Inc. and the Federal Aviation Administration — received recognition from Aviation Week for an historic flight on June 12, 2018.
NASA owns a GA-ASI Predator B aircraft it calls Ikhana. As an experiment, NASA flew the aircraft in the national airspace without the usual chase plane — which provides extra safety for such flights. To interact with aircraft around it, the NASA unmanned aircraft relied on a variety of electronics, including a detect-and-avoid (DAA) system developed by GA-ASI.
A NASA description of the flight said Ikhana flew from Edwards Air Force Base in the high desert toward Fresno in the San Joaquin Valley, into space used by commercial airline traffic. Then it headed back to the high desert at Victorville, passing the general aviation airport in the mountains at Tehachapi, before entering the sprawling air base at Edwards again. Various air traffic control offices watched the big unmanned aircraft as it went through their territories.
"Flying these large remotely piloted aircraft over the United States opens the doors to all types of services, from monitoring and fighting forest fires, to providing new emergency search and rescue operations," NASA said in a statement at the time.
The Aviation Week Network called it the best achievement of 2018 in the category of commercial aviation-unmanned systems.
"We're thrilled to be part of this important aviation achievement," David R. Alexander, president of GA-ASI, said in a statement in mid-March. "This is another step toward our goal of producing UAS that can be certified to fly in non-segregated airspace. Our DAA system is more capable than the collision avoidance systems required on today's commercial manned aircraft, and we believe it far exceeds the average pilot's ability to 'see and avoid.' The predictive capabilities of our system create a safe environment for manned and unmanned aircraft to fly together in the NAS [national airspace system].