Kearny Mesa Business Campus Sold For $28.2M
Wednesday, April 3, 2019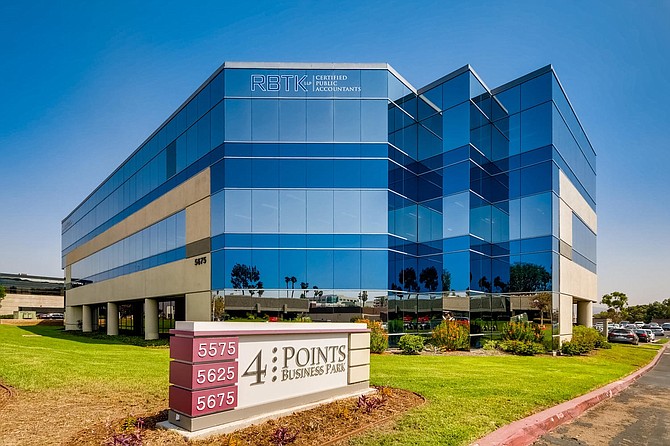 A Kearny Mesa business campus comprised of three buildings has been sold for $28.2 million.
Fenway Capital Advisors and Waterfall Asset Management bought Four Points Business Park from Brookwood Financial Partners LLC.
The 124,463 square-foot campus at 5575, 5625 and 5675 Ruffin Road was 92 percent leased at the time of the sale.
Louay Alsadek and Hunter Rowe of CBRE represented Brookwood.
Fenway Capital Advisors and Waterfall Asset Management represented themselves.
"The quality of the property, combined with its excellent visibility and freeway access attracted the investment community to aggressively pursue the asset and drove the competitive bidding process," Alsadek said. "Kearny Mesa's historically low vacancy rate and positive investor sentiment are a testament to the strong fundamentals and desirability of the submarket."
Kearny Mesa has an office vacancy rate of 7.2 percent, according to CBRE. The firm predicted that office rents in Kearny Mesa would rise by 16 percent over the next three years.
Larry Jackel, managing partner of Fenway Capital Advisors, said the new owners "plan to complete significant capital improvements and elevate the asset in the Kearny Mesa marketplace."
Real estate reporter Ray Huard may be reached at rhuard@dbj.com or 858-277-8904.