EvoNexus Launches New Cohort with Merck's High-Tech Materials Subsidiary
Wednesday, April 3, 2019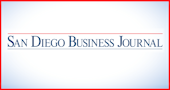 San Diego-based startup incubator EvoNexus is launching applications for a summer cohort with a new corporate partner. EvoNexus will work with Merck's high-tech materials business, EMD Performance Materials.
EMD Performance Materials specializes in developing liquid crystals that are used in smartphones, flat-screen TVs and laptops. The company also makes pearlescent pigments, used in everything from makeup to paint.
"As we continue to source entrepreneurs with groundbreaking ideas from our surrounding community or evolve science developed in post doc labs at world class universities, we are expanding the boundaries of our technology incubator into sectors that improve the quality of our daily lives in many ways," EvoNexus CEO Rory Moore said in a news release.
In the new cohort, EvoNexus will seek startups in San Diego and Irvine that are working on projects related to EMD Performance Materials' core business. Those areas include:
Semiconductor devices, electronic packaging and interconnects
Advanced sensors and displays
Electro-optical devices
Functional, decorative, and bioactive additives for coatings
Finalists will be accepted into EvoNexus' technology incubator, where they will receive access to office space and lab space for up to two years, mentorship and product development, in exchange for a 4 to 5 percent equity stake. In addition, startups will have the opportunity to receive early-stage funding and partnership opportunities with EMD Performance Materials.
"The EvoNexus incubator model is unique in that it's providing top tier startups access to mentoring, access to capital, access to strategic partnerships, and collaborative working space allowing them to commercialize concepts and bring products and solutions to market quickly," Michael Matthews, director of partnerships at EMD Performance Materials, said in a news release. "We are looking forward to EvoNexus' outreach to research institutions and entrepreneurs in this application round with us."
In the past, EMD Performance Materials's corporate venture arm, M Ventures, has invested in one San Diego company: digital health company Biolinq. M Ventures led a $10 million Series A round in the company in 2017.
Applications for the upcoming round are due on May 4, 2019. The incubator program will begin in June.