BUILDING: HIGH-END IS FOCUS, CLASS B, C LACKIN
Vista Welcoming New Apartment Projects
Tuesday, April 2, 2019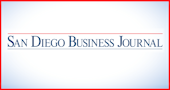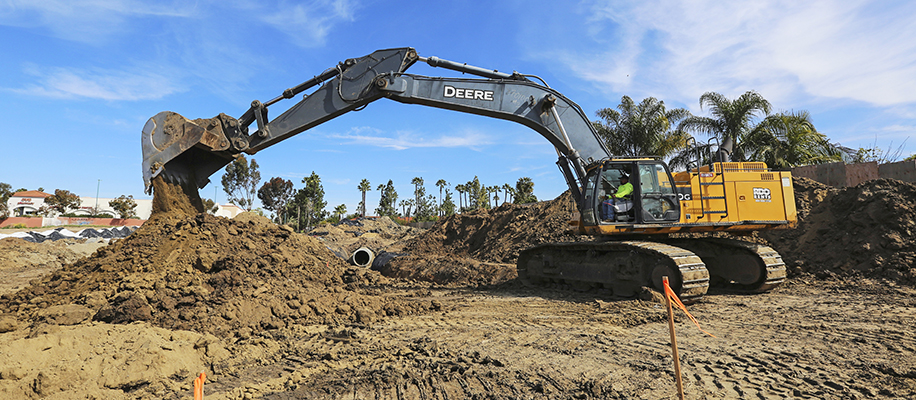 Bulldozers are rumbling across central Vista as the inland North County city of 103,000 experiences a wave of construction of new, high-end apartment buildings, that will complement the city's multimillion-dollar, decades-long quest to revitalize its downtown core. Near to a transit hub for buses and Sprinter trains, new restaurants, shops and craft breweries have sprung up in recent years, as the city has widened sidewalks, installed new lighting and street furniture, undergrounded utilities and realigned streets in an effort to lure private investment. The city has invested tens of millions of dollars into the upgrades.
"It seems like every time I drive through there's a new restaurant that pops up downtown," said Jeremy Meredith, founder and managing director of Orion Pacific, a San Diego-based developer that has broken ground on a 305-unit, high-end apartment complex on North Santa Fe Avenue, about a mile from downtown Vista.
Called Persea, after the scientific name for the avocado type tree, historically a mainstay of Vista's agriculture sector, the new Orion Pacific project is expected to begin leasing its first units about a year from now, as the project is completed in phases, Meredith said.
The project will feature studios, one- and two-bedroom units, averaging 900-square feet, and include such amenities as a resort-style pool with cabanas, a rooftop deck and craft brew lounge, and space where residents can work or study, or even hold a business meeting, said Meredith.

Also on premises will be a "sports simulation lounge" with electronic versions of golf, soccer and football. A decorative feature of the sports lounge will be a wall paneled with wood from the bowling lanes of the Vista Entertainment Center, a Vista institution which was torn down in 2018 to make way for a Honda dealership.
Experts in multifamily residential real estate hesitated to call the new apartment construction in Vista and elsewhere in North County a boom, but said there has definitely been an uptick in activity in recent years. Farther south, in San Diego, apartment construction is particularly strong in downtown and Mission Valley.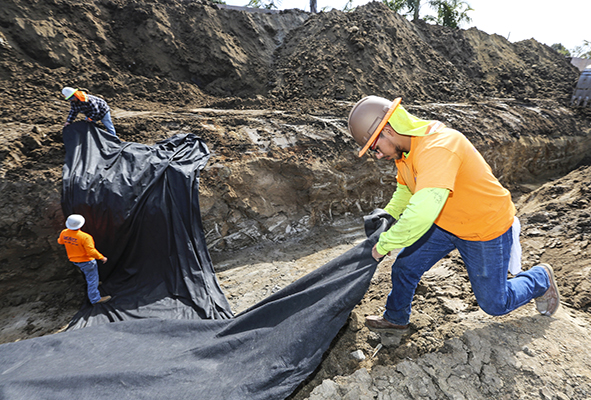 In spite of the recent spate of activity, however, those in the business of buying, selling and building multifamily housing said the shortage of housing stock in San Diego County will persist, especially when it comes to "workforce" housing, or apartments geared for families with average household incomes.
Suburban Development
"Finally, in the last year or two, we've been beginning to see a reasonable level of suburban development taking place," said Kevin Mulhern, senior vice president with the San Diego office of CBRE, a commercial real estate brokerage.
But he cautioned that current construction won't begin to erase the San Diego region's chronic housing deficit.
"We're definitely playing catchup ball," said Mulhern. "You don't catch up from a 20-year housing shortage with one or two years of development."
Still, investors remain interested in San Diego County's multifamily housing market, said both Mulhern and Darcy Miramontes, managing director with the San Diego office of JLL, a property consultancy company.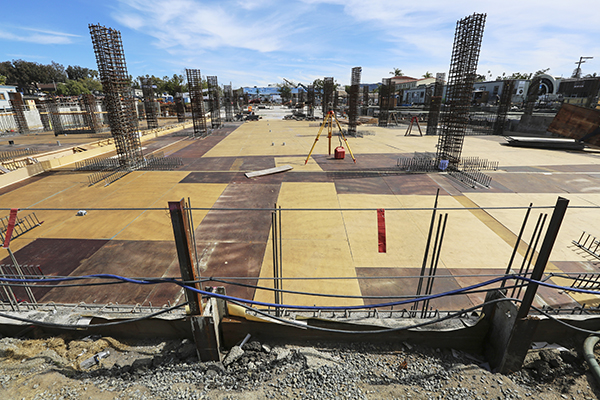 "The multifamily fundamentals in the San Diego market are sound," said Miramontes.

Encouraging Multifamily Development
Rental occupancy across San Diego County stands at about 97 percent, meaning it's a landlord's market, said Mulhern.
Vista's decision to invest in public improvements in its downtown has paid off in both business development and residential construction, said Miramontes.
"I applaud Vista for what they've done in encouraging multifamily development," Miramontes said.
Currently, a number of multifamily projects, including both luxury apartments and condos, are underway in and around the downtown area. Others are in the development pipeline, awaiting approval from the city.
"There's a lot of activity happening," said John Conley, Vista's director of community development and engineering. "By far, it's the busiest we've been in the 20 years I've been here."
The Developments
Notable projects include 100 Main Street, a mixed-use development at Vista Village Drive and North Santa Fe Avenue, in the heart of Vista's downtown district. The five-story project, now under construction, will include nearly 15,000 square feet of commercial space, along with 126 apartments.
"The site fit our targeted profile: It is an infill site that is super walkable to Vista's established downtown core and adjacent to the Sprinter line. This fact is further enhanced by the city's continued commitment both publicly and privately to improve and evolve the historic downtown area. We are excited to be a part of this huge lifestyle transformation," Dan Walter, with the project's developer, Streetlights Residential, wrote in an email. The company has offices across the country including La Jolla.
Amenities will include a pool, spa, fitness center and coworking space, according to Walter. Project completion is expected in the third quarter of 2020.
Also under construction near downtown is the Monarch at Buena Vista Creek, a 179-unit apartment project being developed by the Monarch Group LLC, on the site of a former mobile home park. The project is adjacent to the creek and a nature trail maintained by the Vista Conservancy, and its amenities will include a connecting trail segment between the conservancy trail and downtown Vista, said Sarah Kruer Jager, a partner with the Monarch Group.
Jager said the project, amidst a "park-like setting," will include one-, two- and three-bedroom units, with such amenities as a pool, spa, clubhouse and exercise building, along with dog wash areas and a dog run. "Lots of fun bells and whistles for residents," she said. Each unit will also have a private, one-car garage.
Monarch Group, which had previously built another project in Vista's Shadowridge community, was glad to be back, both because of the city's "great" development staff, and the strong economy in both Vista and the North County, Jager said.
"The entire (Highway) 78 North County corridor is booming. We felt very bullish about the prospects," said Jager, about her company's decision to build in Vista. "A lot of good things are happening in that neck of the woods."
Monarch expects the first units in its project to be occupied in late 2019 or early 2020, said Jager, with completion occurring next summer. Rents will be comparable to other Class A projects in the area.
Developers interviewed for this story declined to give the cost of their projects.
Class B and C Difficulties
While most of the current apartment construction is focused on high-end product, developers are unable to make Class B or C projects pencil out, more in line with the budgets of working families, said Miramontes of JLL. That's due to the high cost of land, construction materials and labor, and compliance with development regulations.

"Very few projects countywide are meeting that need (for workforce housing). That is the big, big gap," said Conley with the city of Vista.
But a provision in the federal tax law approved by Congress in 2017 could help. The law allows the establishment of opportunity zones, which confer tax benefits for investors in residential and business development.
The state determines which census tracts are eligible to be designated as opportunity zones, and in North County, only Vista and Escondido have qualified, although there are additional zones in San Diego.
"We've certainly seen a lot of investor interest" in opportunity zones, said Miramontes. "It could spur more multifamily growth in B and C products."