Brooklyn Girl Eatery Closes
Tuesday, April 2, 2019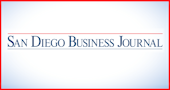 Brooklyn Girl Eatery, located in Mission Hills, has closed. According to a Facebook post, Sunday March 31st was the last day the restaurant opened to the public.
"It is with sadness yet an abundance of gratitude to all our guests that have graced our doors, to the friends we have made along the way, to our regulars that have supported us through out the years and to our amazing crew that has put their heart and soul into this restaurant," the entry read.
Michael and Victoria McGeath, owners of Brooklyn Girl Eatery, opened their first restaurant, Fio's Cucina Italiana, in 1989 in the Gaslamp area. In 1994, the pair opened Trattoria Acqua in la Jolla. Brooklyn Girl opened its doors in 2011. The restaurant's website reads: The desire to bring something new to San Diego, similar to what Victoria felt was happening in Brooklyn, lead them to try and take that passion for culinary revival to Mission Hills, where they felt they could create a unique neighborhood inspired restaurant that would feature the best of what San Diego County has to offer in food, wine, beer and spirits.
The McGeaths didn't responded to email requests for comment.
Travel & hospitality reporter Mariel Concepcion can be reached at mconcepcion@sdbj.com or 858-634-4625.