Big S.D. Software Co. Acquires Worker's Comp Business
Sunday, September 30, 2018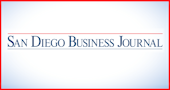 Mitchell International Inc., a San Diego-based software company for automotive claims, will create a new division after acquiring a manager of worker's compensation and disability claims.
Mitchell announced Sept. 28 it had entered a definitive merger agreement with Wayne, Pennsylvania-based Genex Services. Terms of the deal were not disclosed.
If the merger is approved, Mitchell will create a new division focused on clinical solutions, paired with the company's current work on collision repair, and property and casualty insurance. Mitchell CEO Alex Sun described the deal as a natural extension of the company's strategy.
"Through the addition of the Genex team, we are bringing together market leaders in medical compliance and cost containment and solutions focused on the injured worker and return to work," he said in a news release.
Genex will continue to maintain its Pennsylvania headquarters, and current CEO Peter Madeja will retain his position as chief executive of the division. Sun and Madeja will create a new office of the chairman to help guide the merger, and both executives will serve on the combined company's board of directors.
Mitchell is San Diego's third-largest private company, with $569.8 million in revenue in 2016. The company has 1,625 full-time employees, including 767 locally. Genex employs 2,900, according to a press release.