Rady Children's Launches Medi-Cal Pilot for Genetic Testing in Newborns
Thursday, September 27, 2018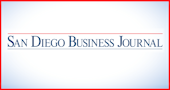 Rady Children's Hospital recently announced its lead role in a state pilot program that will expand genome sequencing for critically ill newborns.
Under the new $2 million initiative called Project Baby Bear, Rady became the first children's hospital offering genome sequencing through Medi-Cal, which covers low-income children and adults.
Rady Children's Institute for Genomics Medicine will employ genome sequencing as a first-line diagnostic test for babies at four hospitals statewide.
Project Baby Bear could spark greater health coverage of genetic testing, used by Rady since 2016 to diagnose babies and children hospitalized in intensive care with rare diseases. Until the pilot, genome sequencing has not been covered by insurance or Medi-Cal, only available through clinical trials funded by research grants or philanthropy.
A press release announcing the initiative noted Kara Coltrin, whose son suffered seizures that took him to the brink of death before whole-genome sequencing pinpointed the cause of his illness. Doctors then changed his treatment.
Rady has been on the forefront of genomics in health care. Its genomics medicine institute holds the world record for fastest diagnosis through genomic sequencing at 19.5 hours.