GigaIO Closes $4.5M Funding Round
Wednesday, September 26, 2018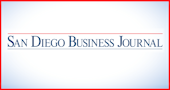 Carlsbad-based GigaIO Networks Inc., which is developing a novel computer architecture, received $4.5 million in its series A round. Mark IV Capital led the round, announced on Sept. 25.
GigaIO said it will use the funds to accelerate product development, making its FabreX platform available in the fourth quarter. It also plans to expand its sales and marketing operations.
FabreX is a patented interconnect network which, according to the company, delivers unparalleled performance and connectivity to data centers.
Alan Benjamin is GigaIO's chief executive. GigaIO took part in the Evonexus technology accelerator program.