San Diego International Airport Accelerator Names First Cohort
Monday, September 24, 2018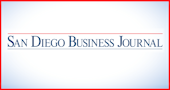 Five companies were named to the San Diego International Airport's accelerator program Sept. 24. The Airport Innovation Lab's first participants will focus on two areas: airport parking and improving the airport experience.
The companies will participate in a 16-week program, ending in a presentation to the San Diego County Regional Airport Authority. They will also compete for a contract with the airport.
The first five participants, including four startups, are:
• Baggage Nanny, a San Diego luggage storage and delivery service
• FreedomPark, an Irving, Texas, valet parking and rental car valet service (the only non-startup in the cohort)
• ParkConnect, a San Diego parking booking system
• TravelCar, a Los Angeles car-sharing platform that allows passengers to park and potentially rent their vehicles
• Vark, a Southlake, Texas, platform for valet services
"San Diego International Airport is committed to excellent customer service and innovation," Airport Authority CEO Kimberly Becker said in a release. "We started the Airport Innovation Lab to develop solutions at the intersection of these two imperatives. It is very exciting to contemplate new ideas to address existing challenges, as well as the potential for developing radical new concepts."
The unique Lab was launched to reduce barriers for innovators to break into the aviation industry. Its goals are to enhance the passenger experience, improve operational efficiency, identify non-airline revenue sources and decrease costs for the Airport Authority. The 3,500-square-foot space offers a functional mini-terminal area with ticket counters and a bag claim carousel, all without passenger or security concerns to work around.
In addition to being deployed at San Diego International Airport, successful innovations could be rolled out to other airports and analogous businesses, such as shopping malls, convention centers and other transportation hubs.
For more information and to apply for future programs, visit www.innovate.san.org.