Decision 2018: Mission Valley - SDSU West Prioritizes Tech Center, Campus Expansion
Monday, September 24, 2018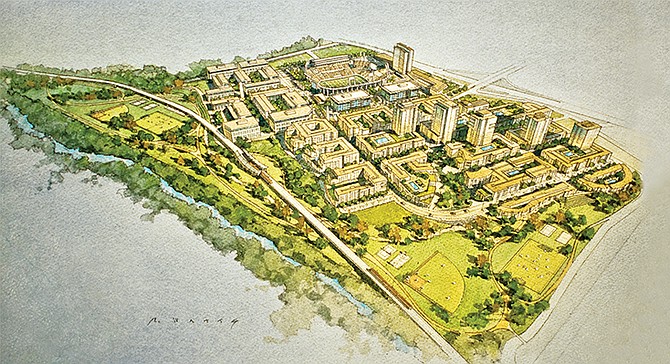 San Diego State University is bursting at the seams, and a ballot measure that would give the university the right to develop the former Qualcomm Stadium site into a second campus is meant to provide what school officials said is much-needed relief.
"For SDSU, this represents a once-in-a-lifetime opportunity," said Fred Pierce, a steering committee member of the Friends of SDSU, which is sponsoring the ballot initiative known as SDSU West.
"SDSU West's initiative starts with and is all about education and providing for a west campus for San Diego State to allow it to grow," Pierce said. "This will make a huge difference."
More than 103,000 people applied for admission to SDSU this year, but only 11,000 new undergraduate and graduate students were accepted.
Expanding Enrollment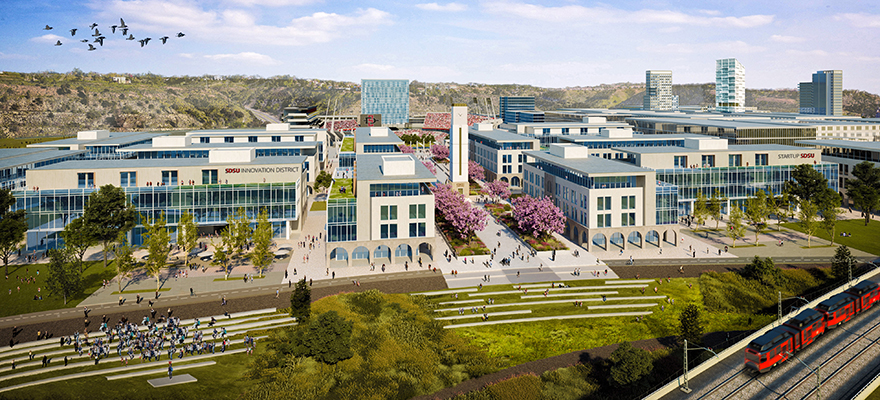 Expanding to the Qualcomm Stadium site would allow SDSU to increase student enrollment from about 35,000 to about 50,000, Pierce said.
SDSU's 288-acre campus in San Diego's College neighborhood is landlocked with Interstate 8 to the north and built-up neighborhoods to the south, east and west.
University officials contend that the former Qualcomm site is the only nearby property that's big enough to meet SDSU's long-term expansion needs.
A trolley stop on site also makes it particularly attractive, giving students and faculty easy access from the main campus.
"You can't put this way up in North County or way down in South County because you lose the synergy," Pierce said. "This is the only place to move the needle for SDSU."
14 Page Initiative
SDSU West's 14-page initiative — Proposition G on the November ballot — provides for the city to sell about 170 acres that make up the Qualcomm site to SDSU at fair market value for development of a football stadium as the home field for the SDSU Aztecs and a second campus.
The Aztecs have been playing at the former Qualcomm Stadium, now the SDCCU Stadium, since it opened in 1967 as Jack Murphy Stadium.
Details on how the property would be developed aren't included in the SDSU West initiative, but the university has produced a plan for what it wants on the site.
A rival ballot measure – Proposition E — by SoccerCity, formed by FS Investors of La Jolla, is centered around building a stadium for Major League Soccer that could be expanded for college football.
The SoccerCity proposal includes an entertainment district, housing that would be a mix of condominiums and apartments, office space that SoccerCity said could be used for an expanded SDSU, and parkland.
A separate entity apart from the university itself — SDSU West — was formed for the university expansion ballot measure because SDSU is prohibited by state law from sponsoring a ballot initiative on its own or promoting one.
University officials said that their plan won't change, even if neither the SDSU West nor the SoccerCity initiatives get more than 50 percent of the vote needed for passage in the November election.
In that case, the issue of what happens to the Qualcomm Stadium site would go back to San Diego's mayor and City Council, and SDSU could present its plan directly to them.
That plan includes a $250 million college football stadium with 35,000 seats that could be expanded to 55,000 seats for professional football.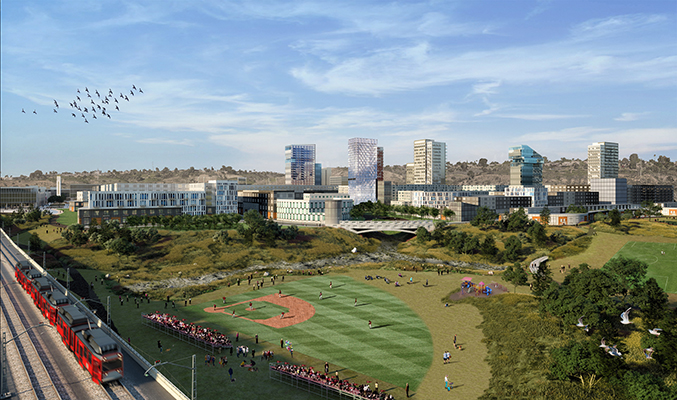 Also included are 1.6 million square feet of campus/tech office space, part of which would become a technology park similar to one developed by the Georgia Tech.
There would be 4,600 apartments for students, faculty and the general public with some designated affordable, 89 acres of green space including 75 acres of active and passive parks, four miles of hiking/biking trails, five acres of public plazas and paseos, 95,000 square feet of retail space that would include a grocery store, 7,000 parking spaces, a 250-room conference center hotel and a second 150-room hotel.
The conference center hotel would include 75 for-sale condominium units on the top floor.
Room for NFL Size Stadium
The stadium, which has been the focus of much public attention, has been designed to accommodate soccer, Aztec football, the annual Holiday Bowl and "multiple other sports," said John Kratzer, a consultant on the project who is president and CEO of JMI Realty.
The stadium also could be used for concerts "and other key civic events," Kratzer said.
The footprint of the stadium at the northwest portion of the property has purposefully been made bigger than needed to allow for the stadium to be expanded for a National Football League team should the city attract one, Kratzer said.
Because the SDSU plan isn't spelled out in the ballot measure, should it pass, the details would have to be worked out in negotiations with the city, using the SDSU plan as a starting point.
The plan also must undergo environmental review under the California Environmental Quality Act (CEQA) — a review which Kratzer said is already in progress.
As such, the plan "will be subject to full public review, full environmental review" with chances to discuss and modify it, Pierce said.
Preserving Open Space
The design of the campus is focused on preserving open space, accounting for about 52 percent of the site, Kratzer said.
"It was critically important that we provide the community with the parks that are lacking in Mission Valley," Kratzer said. "We really started with the open space issues."
Building faculty housing is a crucial element in the plan, Kratzer said.
"The university struggles with faculty recruitment and retention because of the cost of housing," Kratzer.
The goal in building the office space, in addition to providing classroom space for the university, is to attract tech and biotech companies that might want to be near university researchers.
"This is a campus-scale tech space," Kratzer said.
15 Year Project
Building the entire project is expected to take about 15 years, starting with construction of the stadium and site preparation work for the future development of the property.
"We think you could be playing football in that stadium at the end of three years, total, from November," Kratzer said.
SDSU West said the university already has a nearly $5.7 billion impact on the region's economy, providing 40,000 jobs and pays $457 million in state and local taxes
An expanded university would have an even larger economic impact, according to SDSU West.
READ MORE: Decision 2018: Mission Valley - Sports, Entertainment District At Core Of SoccerCity