FOR THESE DARING DOGS, SURFING IS A WAY OF LIFESAVING
For These Daring Dogs, Surfing Is a Way of Lifesaving
Sunday, September 23, 2018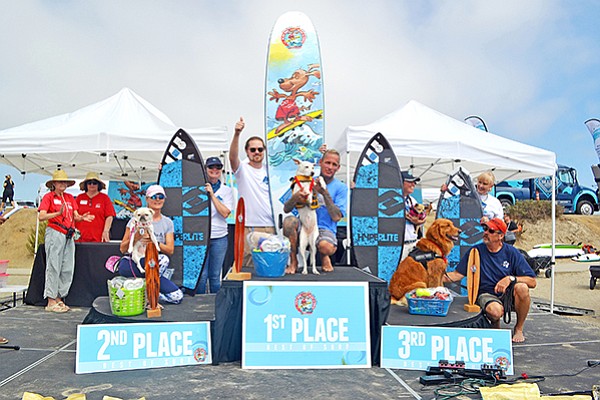 Helen Woodward Animal Center recently held its signature beach event, the 13th Annual Surf Dog Surf-A-Thon. The center and presenting sponsor Blue Buffalo welcomed thousands of human and canine spectators to Dog Beach Del Mar for the event which featured surfing dogs, a canine costume contest, a "freestyle surf" competition, as well as food and interactive booths, all for the benefit of the pets and programs at the center. Surfing canines and spectators alike love this dog surf-competition because it's the only one of its kind with 100 percent of the proceeds dedicated to helping "orphan" pets.
The dog surfing competition has grown to include more than 70 competing surfing dogs and has turned "dogs on surfboards" into a platform to raise lifesaving funds.
"This year was the best yet," said Helen Woodward Animal Center Vice President of Development Renee Resko. "We are always touched by the love and happiness expressed by the owners of surfer dogs, and by those attending. There's a real passion for an event that shows off how amazing our four-footed friends are and also a joy in knowing that it all goes towards such a good cause." Visit animalcenter.org.
• • •
Mission Federal Credit Union teamed up with NBC San Diego, Telemundo and the San Diego Humane Society for this year's Clear the Shelters. The community-driven pet adoption drive helped find loving homes for over 2,300 animals in need and nationwide, the campaign resulted in 100,927 animals placed in forever homes. Since its beginning in 2015, Clear the Shelters has resulted in more than 250,000 pet adoptions. Mission Fed is proud to support efforts that raise awareness about pet overpopulation, shelter overcrowding and the importance of spaying and neutering animals. Visit sdhumane.org.
• • •
The Building Owners and Managers Association, or BOMA, has supported Promises2Kids annual Back-to-School Drive and the Give From Your Heart holiday gift drive for more than 25 years.
Foster care hits close to home for one of BOMA's community service committee's co-chairs, Dennis Dubert. Dubert was raised in a home that served as a foster home to several of San Diego's foster youth. His mother, Pat Dubert, who is still a foster parent, has been a selfless provider for over 45 years, fostering more than 600 children and adopting three.
Dubert said he was deeply honored to "follow in my mother's footsteps and serve as co-chair of the Annual Back-to-School Drive for Promises2Kids."
Promises2Kids, one of San Diego's foremost nonprofits with a focus on foster care and children's welfare, received a donation of 937 backpacks and lunch bags, along with school supplies, from BOMA. Visit promises2kids.org.
 • • •
The Sundt Foundation announced a $5,000 grant to Casa de Amparo which will aid in treating and preventing child abuse and neglect in San Diego County.
The organization supports more than 1,000 Casa Kids, from prenatal to 25 years old, as well as more than 950 families.
The Sundt Foundation awarded a total of $13,000 in grants to four Southern California-area nonprofits during its second-quarter disbursement. Other second-quarter grants include: Adopt-A-Grandparent, City Heights Coffee House and Developmental Services Continuum Inc.
During the third-quarter distribution the Sundt Foundation awarded $8,000 in grants to four additional nonprofits. Third-quarter grants include: Angels Foster Family Network, San Diego Second Chance, Straight From The Heart and Urban Surf 4 Kids.
• • •
Miracle Babies, a nonprofit organization that provides financial and emotional support to families with critically ill newborns in the neonatal intensive care unit (NICU), has entered into a partnership with AMAG Pharmaceuticals. The two organizations will work together to enhance the well-being of women, children, and their families through education, risk reduction and assistance, and the company will donate $20,000.
Miracle Babies was founded in 2010 by Dr. Sean Daneshmand, a maternal and fetal medicine specialist.
Send Kudos/Giving items to
sglidden@sdbj.com.