Life Sciences Reporter's Notebook: Heron Hoping for A Political Solution
Sunday, September 23, 2018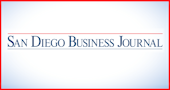 Ionis' Huntington's Drug Heads to Final-Stage Trial
Medications can help manage symptoms of Huntington's disease. But invariably sufferers are robbed of mental and physical abilities.
Ionis Pharmaceuticals wants to change this. The Carlsbad company's potentially groundbreaking treatment will begin a final-stage clinical trial late this year, it was announced Sept. 16.
This spring, Ionis reported that in a phase 1/2 trial its drug, Ionis-HTTRx, reduced the levels of a mutant protein found in patients with Huntington's disease. The goal is to stop or slow the disease's progression.
"It was thought by many to be too difficult to target the root cause of Huntington's disease, but we have demonstrated that it actually can be done," C. Frank Bennett, senior vice president of research at Ionis, said in a statement.
Ionis is taking on Huntington's through its antisense technology. Antisense drugs bind to RNA instead of proteins, which have been the focus of the pharmaceutical industry for more than 100 years.
Ionis-HTTRx would mark the second win for Ionis' antisense platform in neurological diseases. The first was its blockbuster drug Spinraza for infants with spinal muscular atrophy.
Last December, Swiss pharmaceutical giant Roche paid Ionis $45 million to license Ionis-HTTRx, taking the lead in development. Ionis would receive additional money for developmental milestones, along with royalties if the drug is approved.
Heron Hoping for a Political Solution
The U.S. Senate on Sept. 17 passed bipartisan legislation to combat the opioid epidemic. For at least one San Diego biotech, a notable measure was missing.
Heron Therapeutics has lobbied to allow Medicare to increase payments for non-opioids in treating post-surgical pain, part of a package the House passed in June.

Heron later this year will seek approval of its postoperative anesthetic. In clinical trials the drug reportedly lessened pain and decreased opioid use 72 hours after surgery.
In an interview with me last year, CEO Barry Quart pointed to a bipartisan White House Commission, which found the current reimbursement structure incentivizes cheap opioids.
The measure could still make the final cut. The House and Senate will reconcile their differences before sending the bill to President Donald Trump.

Ad Astra Brings Life Sciences Aboard
A San Diego accelerator program for women-led startups is going all in on life sciences.
Launched in January, Ad Astra Ventures' second cohort is made up of Vivid Genomics, Cooler Heads and Hydrostasis. This marks the first time the accelerator has sought out life sciences companies.

(Side note: Vivid Genomics was part of my cover story last week about a wave of San Diego startups created and led by former Illumina leaders.)
In a program tailored to women, Ad Astra provides a 12-week boot camp, a $20,000 investment, mentorship and a "champion" to advocate for additional funding and support once the program finishes.
Three San Diego investors and entrepreneurs – Allison Long Pettine, Silvia Mah and Vidya Dinamani, founded the accelerator. The organization notes that in 2017, according to Dow JonesVentureSource, 14 percent of venture capital invested went to companies led by women.