'Boot Camp' Gets Small Cos. Competitive For Contracts
Sunday, September 23, 2018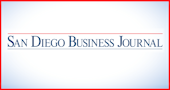 Fifteen small defense contractors from San Diego County have been chosen to participate in the Defense Innovation Voucher program, called DIVx for short.
The program, funded by the Department of Defense, seeks to make small defense contractors more resilient. Diversification is one aim.
The companies, chosen by the San Diego Regional Economic Development Corp., are Accel-RF Instruments Corp., Amaratek, American Lithium Energy Corp., Coast Precision Enterprises Inc., EpiSci (also known as EpiSys Science Inc.), Fuse Integration Inc., GET Engineering Corp., intelliSolutions Inc., Marine Group Boat Works LLC, Ocean Aero, Planck Aerosystems, Sidus Solutions, Trabus Technologies, VetPowered LLC and Vortex Engineering.
The Pentagon's Office of Economic Adjustment provided money to the city of San Diego to fund the program. Driving the program is Propel San Diego, a partnership between six entities: the city, the San Diego Military Advisory Council (also called SDMAC), the Regional EDC, the East County Economic Development Council, the South County Economic Development Council and the San Diego Workforce Partnership.
The DIVx program will provide a six-month "boot camp" to educate company leaders on how to be more competitive.
In addition, consultants identified by the Regional EDC will provide each defense contractor with $15,000 in complimentary consulting services. Topics will include marketing, accounting compliance, certifications, lean supply chain and additive manufacturing tools, and strategic planning.
The 15 firms will compete for a DIVx grand prize, which will be $25,000 in services from a preapproved contractor.
Some 89 percent of San Diego's defense contracting supply chain is made up of small businesses: that is, businesses employing fewer than 50 people.
Forty percent of companies employ fewer than 5 people.
"As federal funds continue to fluctuate in defense spending, small business that often rely on one to two large contracts are at risk," Nikia Clarke, the Regional EDC's vice president of economic development, said in a prepared statement. "The newly launched DIVx program is designed to help these companies diversify their revenue and become more resilient, thus increasing their ability to withstand fluctuations in [Defense Department] spending and downturns in our economy."
Booz Allen Hamilton, the defense consulting house, is the presenting sponsor of the DIVx program.