STARTUP: COS. NEED TO MAKE SURE CULTURE, STYLE ARE GOOD MATCH
Know Right From Wrong in Startup Programs
Friday, September 21, 2018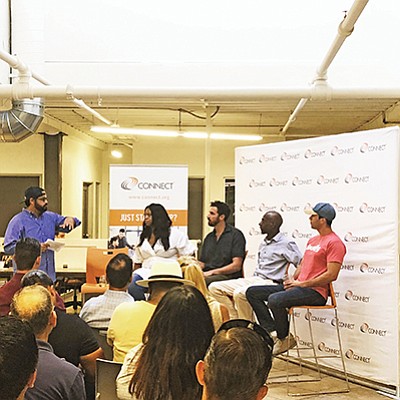 Ecosystems of incubator and accelerator programs have sprung up in tech cities around the world in response to demand from entrepreneurs for launching pads for their endeavors.
Four founders of San Diego startups came together late August at the DeskHub coworking space in Little Italy to share how the programs in which they had participated impacted their companies' trajectories.
Hosted by Connect, the organization that launched the first such program in San Diego, the talk was put together to highlight the benefits and challenges of a range of programs local entrepreneurs may be considering.
Shan Cureton, CEO and founder of ride-sharing company Kiddie Commute, talked about how participating in San Diego State University's ZIP Launchpad program gave her motivation to rapidly develop her business idea into a full-fledged business plan.
H2bid CEO Glenn Oliver, who created an online exchange to connect water utilities with vendors and contractors, shared how participating in Connect's accelerator, Springboard, helped him determine a path for the company and to come to the understanding that he would benefit from a co-founder.
Ben.co chief technology officer Alex Sismanis and Sourcify CEO Nathan Resnick talked about their time as part of a recent Y Combinator cohort. Resnick also shared input on what it was like to be part of EvoNexus, a La Jolla-based incubator he participated in before getting accepted into YC. Ben.co makes an app that educates people about Bitcoin and other cryptocurrencies. Sourcify is a platform that facilitates overseas sourcing for e-commerce brands.
H. Puentes, Connect's director of outreach, emceed the panel.
Here are three takeaways from the talk:
Determine what the program is looking for, and prepare appropriately.
Connect, for example, doesn't accept entrepreneurs with ideas. Founders need to have a proof of concept or a minimum viable product to be considered for acceptance, Oliver (who is now on the Connect board of directors) noted the organization doesn't work with idea-stage companies, but typically expects that applicants have a proof of concept or minimum viable product.
Cureton said the SDSU program is tailored specifically for students, so entrepreneurs with more experience than your typical undergraduate has under his or her belt will likely need additional resources beyond the ZIP Launchpad to facilitate growth.
The YC alums said establishing relationships or getting introduced to the organization's partners can help facilitate acceptance into the highly competitive program.
Do research to determine what each program will provide and ensure it matches what your company is looking for.
Sismanis said Ben.co was primarily interested in YC's "stamp of approval," which brings with it interest from investors and a network of other entrepreneurs. The program did indeed deliver, and the connections established there have led to business partnerships, he said. At Connect, Oliver said, an emphasis on mentoring means entrepreneurs must be "coachable" to get the most out of the program. Those with a know-it-all attitude aren't likely to be a good fit, so applicants should consider seriously how open they are to receiving honest feedback.
Cureton said joining ZIP motivated her when she needed it by providing a reward tied to a list of manageable achievements. Having that structure — the program gives entrepreneurs that achieve certain milestones $5,000 — pushed her to check those boxes in record time.
Once accepted, decide whether the trade-off is worth it.
Some programs don't require anything in exchange for the services provided from the companies that pass muster. Others, however, do, and the entrepreneurs emphasized that founders should weigh whether the transaction is worth it. YC gives each company it accepts $120,000 and takes a 7 percent stake. It also requires founders to travel to meetings. Sismanis went to the Bay Area regularly during Ben.co's time in the program, as did his co-founder, who is based in Vancouver.
EvoNexus has recently changed its requirements for acceptance, and after years of providing services for free, now requires each company it accepts to give up 1 percent to 5 percent in equity. Resnick said he may not have decided to enter the incubator were that the case when he participated.
Regardless, he urged entrepreneurs to value the services that will be provided and compare those with what they would give up.
Companies interested in Connect, Oliver said, should be comfortable with the intensity and length of the program, which can last as long as six months for early-stage companies. Volunteers help out, so entrepreneurs need to be sure they are in a position to take that advice and immediately apply it.