WORKFORCE: COS.' PRESENCE COULD BRING BIGGER CHANGES
Amazon, Walmart Labs Need Local Tech Talent
Monday, September 17, 2018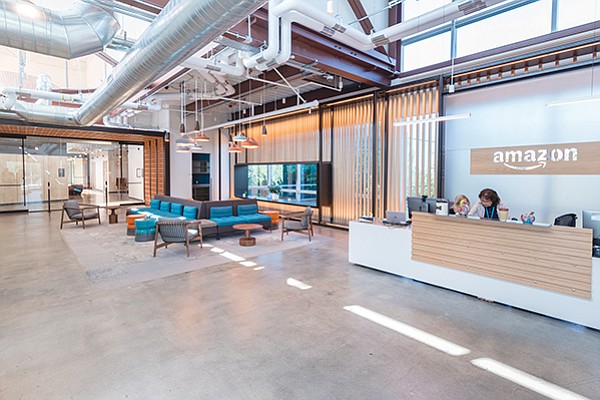 The scramble for technology talent in San Diego is entering a new stage as two mammoth companies have announced plans to dramatically increase hiring.
Amazon.com Inc. announced Sept. 5 that it plans to hire approximately 300 tech employees, more than doubling the size of its local technology workforce. The announcement came shortly after Walmart Inc. announced plans to add more than 100 tech jobs in North County. The big retailer plans to grow its Walmart Labs from 70 employees to 180.
The push comes as Walmart (NYSE: WMT), with its e-commerce aspirations and its fairly recent acquisition of Jet.com, seeks some of Amazon's online business. Meanwhile, Amazon (Nasdaq: AMZN) is settling into brick-and-mortar retailing through its Whole Foods acquisition.
Strategic Shift
The high cost of talent in the San Francisco Bay Area may be forcing tech companies to shift their offices to San Diego, said Kevin Carroll, executive director of Tech San Diego, an industry association.
Amazon cut the ribbon on its San Diego tech hub in University City on Sept. 6. The diversified e-commerce and tech firm has leased 85,000 square feet in Alexandria Real Estate Equities' Campus Pointe complex.
UC San Diego graduate Nate Wiger is general manager of Amazon's San Diego tech hub. In a blog post, Wiger recalled telling his superiors that Amazon needed to be in San Diego.
San Diego Pluses
"UC San Diego's computer science program is ranked No. 11 in the world. There's a lower cost of living here than many cities in California. After looking at all the geo-location data, it seemed we'd be missing out if we didn't open an office here," Wiger, 42, said in the blog.
In a phone interview, he said San Diego State, Cal State San Marcos and the University of San Diego will all be able to contribute engineering talent to Amazon.

Wiger said the corporation is going after local talent. The company plans to hire specialists in software development, machine learning, cloud computing and digital entertainment. Amazon also said it recently added an Amazon Fashion tech team to the San Diego region.
The company has technology hubs in 17 cities in addition to Seattle.
Walmart Labs in Carlsbad
Walmart Labs, which also has a presence in Silicon Valley and other cities, is the retailer's software arm (its website asserts that "a line of code can change the way the world shops.") Employees at Walmart Labs craft the company's online presence and automate the software testing process.
The organization plans to move from about 9,000 square feet of space to a new, 30,000 square foot office in Carlsbad in October.
Talent Shortage?
The announcements come as large San Diego tech companies say they are unable to fill openings.
Rory Moore, CEO of the EvoNexus incubator program, remarked that if he was with a large technology employer, he would be concerned about possibly losing talent to the big-name companies.
Granted, with the economy at essentially full employment, a business as simple as a dry cleaner has trouble finding employees, said Carroll. Companies might have to look to universities and hire more new talent, he said.
Also contributing to the scramble for talent is the phenomenon of employee churn. Turnover is more common than it was 20 years ago, and a person no longer limits their tech career to one company, Carroll said.
When you step back to view the big picture, he said, most technology companies view the growth of the two giants as a positive thing. He predicted that Walmart Labs and Amazon will both hire local talent and release talent into the San Diego ecosystem.
Business professor Daniel DelCastillo says he imagines that foreign software talent will fill the new positions Amazon is advertising. He added that he does not see an Intuit or Illumina employee leaving to work for Amazon. DelCastillo, a human resources specialist, is an adjunct professor at San Diego State University's Fowler College of Business.
Amazon's Wiger predicted that more companies may follow his firm into the San Diego market.