WORKFORCE: STUDIO EQUIPMENT, SOUND STAGES TO OFFER ALTERNATIVE TO L.A.
Film Hub to Cast Coworking in Movie and Television Roles
Wednesday, September 12, 2018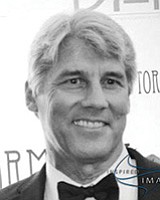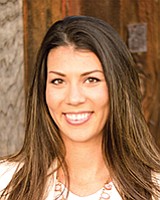 San Diego — Coworking spaces come in many permutations, but rarely like the one a Vista father and daughter team are building in their hometown — The Film Hub with a focus on movie and television productions.
"The idea is to attract more production to North County," said Jim Ellis, a film and television producer who is president and executive producer of Inspired Images Studios, which is building The Film Hub.
Ellis and his daughter, Lauren Fehlhaber, are transforming a former post office that was built in 1960 in downtown Vista at 170 Eucalyptus St., into what they said will be "a content creator's playground."
Both have a strong background in the business.
Ellis has worked in film and television for more than 35 years, producing television commercials and a faith-based feature film, "Refuge From The Storm," released in 2015.
Fehlhaber has designed sets and scenery in the television and film industry for the past eight years and is overseeing construction of The Film Hub.
'A Producer's Playground'
"We understand both worlds of what you need for sets and what you need for production," Fehlhaber said. "It will be a producer's playground for them to come in and shoot whatever they want."
Among other things, the 12,300 square-foot Film Hub will feature professional sound stages, a podcast/audio recording room, editing control room, conference rooms, screening and casting areas, a kitchen set for cooking shows and a foley stage where sounds such as footsteps, clothes rustling and glass breaking are added to films.
"The whole building is actually designed as a shooting location," Ellis said. "You've got a company that wants to do a cooking program, it's a little costly to build a kitchen set. We'll have a set in the building."
Even the windows are specially designed for video — angled so they don't reflect light into cameras.
Ellis bought the building in September 2017 for $1.2 million, according to CoStar, a real estate listing service.
"We completely gutted everything," Fehlhaber said, adding that a second floor mezzanine was added.
"It's one-story space that they've really turned into a two-story space with a large, brand new skylight," said Kevin Ham, Vista's director of economic development.
The interior décor is meant to evoke old-time Hollywood, with a chandelier straight out of a film noir at center stage.
"The design in there is going to be industrial with vintage furniture, a 1940s feel," Fehlhaber said.
Meeting Place and Event Space
The large open section will be furnished with sofas, tables and chairs and an open kitchen and break room.
"It will feel like a café and restaurant," Fehlhaber said. "It's kind of the meeting place where everyone can come and collaborate and double as event space in the evenings and weekends."
For those who need more privacy, plans call for 20 private offices, some of which will include film editing equipment.
"We'll have plenty of glass, so people can have that coworking feeling even if they have a private office," Fehlhaber said.
Construction started a few months ago, with a goal of opening The Film Hub in early 2019. Not including the cost to buy the property, construction costs are expected to be $1.6 million.
Ellis is doing the work himself. The project is being financed by a private investor who wants to remain anonymous, Fehlhaber said.
Avoiding L.A.
Ellis said he got the idea for The Film Hub from talking to colleagues who live in North County but commute to Los Angeles for production work, and from his own experience making the commute.
"I'd rather get a root canal than drive to Los Angeles," Ellis said, but until The Film Hub, there was little choice.
"Ninety percent of the production work is in L.A.," Ellis said.
But he said more and more people in the business are moving to places like North County.
"We see that trend and we think this building will continue that trend, to bring people down here. It's a trend that's moving in this direction," Ellis said.
Erik Bruvold, executive director of the San Diego North Economic Development Council, said North County has a number of small filmmakers who could use The Film Hub.
"There is clearly an opportunity to grow that cluster in San Diego," Bruvold said. "The challenge will remain that it's expensive to shoot video and film in California compared to other locations outside the United States or outside California."
Bruvold said the council is acting as a referral service, linking up potential clients with The Hub.
Discounts to Coworking Members
Although California offers few incentives to film companies compared with some other states, Fehlhaber said The Film Hub will offer discounts to people who become members of its coworking space as a way to make up for the lack of state incentives.
"It's kind of like if you become a member, you save so much on what you would spend on production costs," Fehlhaber said.
The incentives California does offer tend to go to the big studios making feature films, while the likely clients for The Film Hub are small production companies, individual filmmakers, or companies making their own videos, Fehlhaber said.
"North County does get quite a bit of work just for commercials and commercial photography work," Fehlhaber said. "Any company that does their own marketing or works with a marketing company would benefit from this space."
Adds to Downtown Renaissance
With its central Vista location, The Film Hub adds to the renaissance of downtown, said Ham, Vista's economic development manager.
"This is in the middle of our downtown, so it is connected and makes use of all the great amenities we have in the historic downtown," Ham said.
Ham said The Film Hub is an example of how coworking spaces are diversifying and evolving to tailor what they offer to a specific market.
Although The Film Hub is geared to audio and video production, Fehlhaber said it will be open to anyone who needs space to work.
"It's not limited, anyone can come in," Fehlhaber said.