Defense Column Reporter's Notebook: Tour Is Step Up From Usual Bay Excursion
Wednesday, September 12, 2018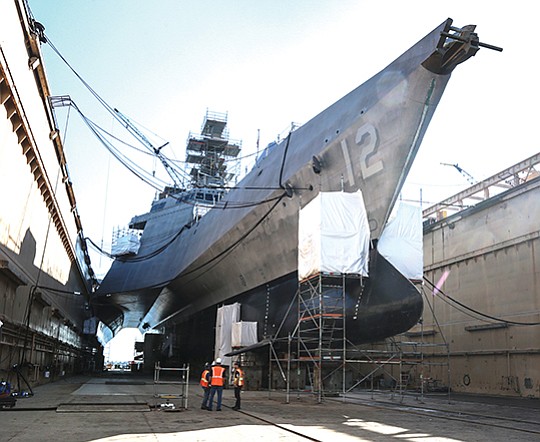 San Diego — "You'll get your cardio in today," says a hard-hatted Gordon Rutherford.
He and I are walking up steel stairs — there seem to be endless flights of them — on the dry dock named Pride of San Diego. It floats on San Diego Bay at BAE Systems San Diego Ship Repair. The summer sun is bright and hot. Wearing a long-sleeved, button-down shirt was a bad choice; I am damp with sweat. Over it all I wear several items issued by BAE management: a reflective vest, safety glasses, a hard hat and steel-toed shoes.
Rutherford, a program manager at the Barrio Logan shipyard, is my guide. Also along for the tour is retired U.S. Navy Rear Adm. David Thomas Jr. (now the top executive at the shipyard) as well as a Business Journal photographer and a BAE employee charged with keeping an eye on the photographer. The Navy client is sensitive about certain things visible in a shipyard and wants no photo record of them. I'm not sure what's off limits. I'm less sure why. Several structures are hidden behind shrouds.
The ship in the dry dock is the USS Omaha, a brand new addition to the Navy fleet, visiting the yard for its post-shakedown availability. The Omaha is a littoral combat ship. Its trimaran hull has a beam (or width) of 104 feet, and it just barely fits within the confines of the dry dock. There are mere inches between the ship's outermost structures and the dry dock's inner walls. Positioning the ship within the structure is an art, Rutherford says, requiring a skill similar to a surveyor's. Once floated inside the dry dock, crews drain the seawater out of the structure, giving them access to the hull.
The tour continues. It's back down the steel stairway and onto the asphalt of the waterfront.
There are about a half-dozen ships in the Barrio Logan facility. The Navy has provided berthing barges for at least one of them. The boxy, floating structure gives the crew a place to live and work while their ship is being refurbished. Used mattresses from one ship have been given to a local homeless shelter, a shipyard spokeswoman tells me.
Crossing the grounds, Thomas bends to pick up paper wrappers that shipyard workers have discarded on the ground; the retired admiral says nothing but his body language registers annoyance. Litter is actually one of the minor problems faced by a shipyard, where workers try to reverse the corrosive effects of water and sea air. There's the adage about rust never sleeping. By their nature, shipyards and boatyards are gritty and grubby. But they are also fascinating places. High on the dry dock, I tell Thomas as much. Leaning on the railing and looking at the Omaha, he agrees and breaks into a smile.