New Leader, Bigger Dry Dock Working at Shipyard
Sunday, September 9, 2018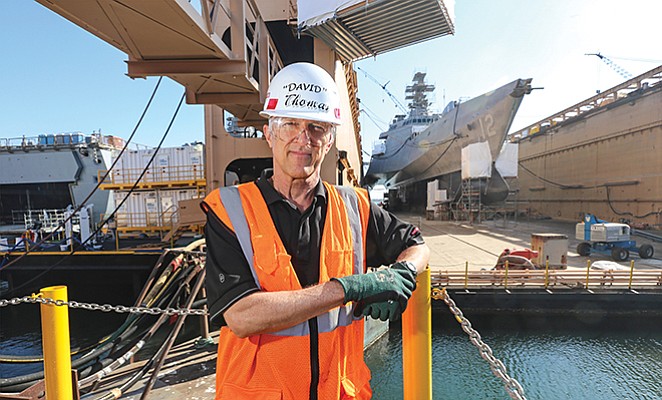 San Diego — A U.S. Navy career gave him a front-row seat to history. Now retired Rear Adm. David M. Thomas Jr. is tending to the fleet.
DAVID M. THOMAS JR.
Title: Vice president and general manager, BAE Systems San Diego Ship Repair
Alma Mater: U.S. Naval Academy
Charitable work: Board member, United Through Reading; previously a board member for Communities in Schools in Jacksonville, Florida
Bucket list: Hike the Appalachian Trail; paddle the length of the Mississippi River; hike the Pacific Crest Trail; sail to Tahiti and then to Pitcairn Island (the South Pacific island was the final destination for the mutineers on the HMS Bounty)
The 60-year-old Thomas took the top job at BAE Systems San Diego Ship Repair in January following the retirement of Bob Koerber.
As a Navy officer, Thomas was working at the Pentagon on the day terrorists attacked. Seven years later, the Navy assigned him to be commander of Joint Task Force, Guantanamo Bay, the command overseeing the detention camp at the Navy base in Cuba.
In his final job in the Navy, Thomas oversaw surface ships in the Atlantic fleet. After retiring, he followed the path of many flag officers and generals into a post-military career with a defense contractor. Going to work for BAE was a good transition, he said.
Thomas managed BAE's Jacksonville, Florida, and Mobile, Alabama, shipyards before becoming vice president and general manager of the San Diego yard.
Eight months into his new assignment, Thomas said he isn't planning any changes in San Diego. However, there is evidence the yard will be dealing with a greater volume of work than it did under Thomas' predecessor.
Dry Dock Investment
In late 2016, BAE Systems brought a new, larger dry dock to the yard. Named the Pride of California, the dry dock is the biggest in the state. With it, BAE gained the ability to support ships that formerly had to go to the dry dock next door at General Dynamics NASSCO.
BAE Systems' new, 950-foot dry dock was "a very deliberate investment on the part of the company," the general manager said.
As is typical in defense contracting, there is both cooperation and competition between BAE, NASSCO and neighbor Continental Maritime of San Diego (part of Huntington Ingalls Industries). Relations with the neighboring yards are "very collegial and professional," he said.
'Pivot West'
The second factor driving up the volume of work in San Diego is what Thomas called the Navy's "pivot west." The military is moving more of its ships to Pacific Ocean ports.
Prev Next