California Pacific Airlines Sets Nov. 1 Start Date
Sunday, September 9, 2018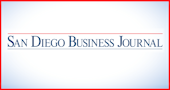 California Pacific Airlines announced it will begin scheduled service on out of Carlsbad on Nov. 1, with additional flights starting Nov. 15.
The Carlsbad-based airline recently signed a lease with McClellan-Palomar Airport in Carlsbad for undisclosed terms.
The carrier plans service from Carlsbad to San Jose; Las Vegas; Reno-Lake Tahoe, Nevada; and Phoenix-Mesa, Arizona.
The airline is the brainchild of Ted Vallas, the 97-year-old Encinitas resident who worked for a decade to make it a reality, facing delays at both the federal and local government levels. Vallas is chairman and majority owner.
California Pacific will use a small fleet of 50-seat regional jets made by Embraer.