Amazon Aims to Hire Hundreds
Thursday, September 6, 2018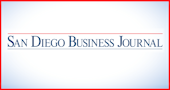 Amazon.com Inc. plans to hire 300 high-tech employees in San Diego, more than doubling its technology workforce in the region.
The corporation is going after local talent, said Nate Wiger, general manager of Amazon's San Diego office.
Amazon (Nasdaq: AMZN) made the announcement Sept. 5, on the eve of opening its San Diego Tech Hub in University City. Amazon has leased 85,000 square feet in Alexandria Real Estate Equities' Campus Pointe complex.
The company said it plans to hire specialists in software development, machine learning, cloud computing and digital entertainment.
The move comes shortly after Walmart Labs announced plans to expand its San Diego presence from 70 people to as many as 180 employees. Walmart shares trade on the New York Stock Exchange as WMT.
Amazon also said it recently added an Amazon Fashion tech team to the San Diego region.