UCSD Ranked Among Top 50 Universities For VC-Backed Entrepreneurs
Monday, September 3, 2018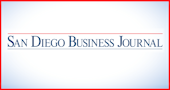 UC San Diego has again landed at No. 26 on Pitchbook's annual list of the top 50 universities that are producing venture capital-backed entrepreneurs.
Pitchbook, a financial data and software company, analyzed data from the start of 2006 to compile the rankings. The company said UCSD's undergraduate program has produced 349 entrepreneurs who have founded 330 companies that have collectively raised $5.73 billion in capital.
The ranking for UCSD, the only San Diego school to make the top 50 list, was unchanged from 2017.
Stanford University, with 1,178 entrepreneurs founding more than 1,000 companies and raising about $28 billion in capital, again topped the list.
"Tapping networks remains perhaps the most trusted recourse to finding not only the right people with whom to launch a new venture, but also the right providers of needed capital," Pitchbook wrote in an introduction to the findings. "And thanks to demographics, biases and more, the people you went to university or graduate programs with remain a key component in your network."
Reach reporter Sarah de Crescenzo at sarahd@sdbj.com.