Bots Bring Design, Data and New Possibilities To Role in Security
Monday, September 3, 2018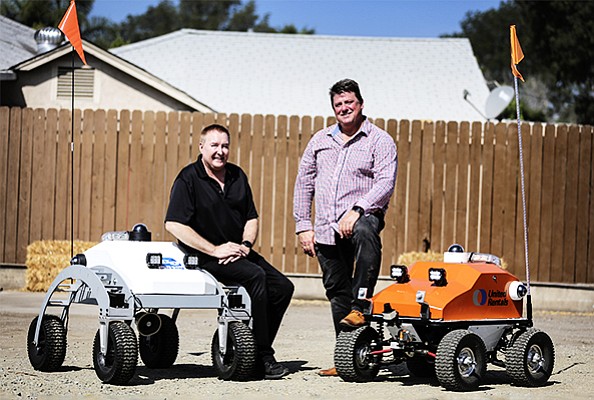 San Diego — A former truck repair lot next to an unassuming three-bedroom on a backstreet in El Cajon has been transformed into a testing site for a two and a half foot tall, ATV-like robot that thanks to a pair of front-facing lights brings to mind the lovable Pixar character Wall-e.
NXT ROBOTICS
CEO: Darin Andersen
Financing: $1.5 million from Nex Cubed, private investors
No. of local employees: 4
Headquarters: Downtown San Diego
Year founded: 2014
Company description: Robotics startup designing security robots for outdoor use and developing associated software
But while it's relatively cute, as robots go — no unsettling Boston Dynamics-esque vibes here — the four-wheeled machine weighs 200 pounds and comes equipped with a bullhorn, night vision and thermal imaging capabilities, lidar to map surroundings and the potential to zoom for hours at up to 30 mph. Monetize Marketplace
The autonomous vehicle, which uses GPS to navigate and is currently intentionally limited to moving at about 2 mph for safety's sake, was developed by Nxt Robotics, a San Diego-based startup that is gaining some traction in the growing market for private security robots. The company has also designed a digital platform to which it hopes to attract apps specifically for security robots, and to monetize the resulting marketplace.
In the summer of 2017 CEO Darin Andersen took over leadership of the company, which was founded by Jeff Debrosse in 2014 at an incubator within Cybertech, a nonprofit organization Andersen founded for people in the cybersecurity and internet-of-things ecosystem. Tom Caldwell, a cybersecurity veteran who has started and sold multiple software startups, recently joined the company as chief technology officer.
$1.5M Seed Funding
Nxt has raised $1.5 million in seed funding and this summer signed its first contract, an agreement with San Diego-based Ace Parking to provide it with vehicles to test at various sites. Ace manages parking for some high-profile customers, including San Diego International Airport and the San Diego Convention Center.
"This isn't my grandfather's parking business anymore," said Keith Jones, managing principal and partner of the family-owned firm. He's not speaking metaphorically: His late grandfather, Evan Jones, launched the company in 1950.
Ace, which has more than 450 locations nationwide, recorded $750 million in revenue in 2017. About 40 percent of its 5,000-person workforce is in San Diego.
While Jones said the company has recently ramped up its use of technology, including fully automating a garage in Las Vegas, he says such moves are intended to augment, rather than replace, the people currently doing that work.
Prev Next