Bots Bring Design, Data and New Possibilities To Role in Security
Monday, September 3, 2018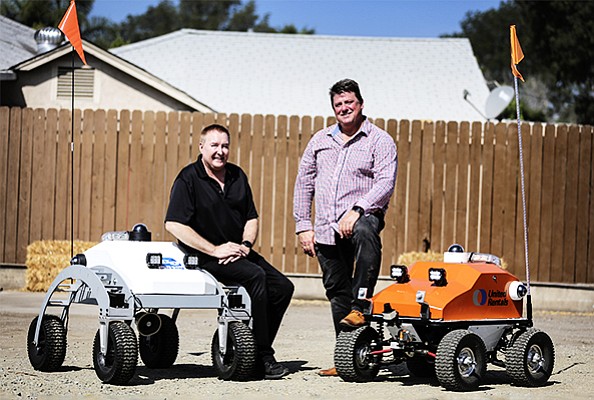 San Diego — A former truck repair lot next to an unassuming three-bedroom on a backstreet in El Cajon has been transformed into a testing site for a two and a half foot tall, ATV-like robot that thanks to a pair of front-facing lights brings to mind the lovable Pixar character Wall-e.
NXT ROBOTICS
CEO: Darin Andersen
Financing: $1.5 million from Nex Cubed, private investors
No. of local employees: 4
Headquarters: Downtown San Diego
Year founded: 2014
Company description: Robotics startup designing security robots for outdoor use and developing associated software
But while it's relatively cute, as robots go — no unsettling Boston Dynamics-esque vibes here — the four-wheeled machine weighs 200 pounds and comes equipped with a bullhorn, night vision and thermal imaging capabilities, lidar to map surroundings and the potential to zoom for hours at up to 30 mph. Monetize Marketplace
The autonomous vehicle, which uses GPS to navigate and is currently intentionally limited to moving at about 2 mph for safety's sake, was developed by Nxt Robotics, a San Diego-based startup that is gaining some traction in the growing market for private security robots. The company has also designed a digital platform to which it hopes to attract apps specifically for security robots, and to monetize the resulting marketplace.
In the summer of 2017 CEO Darin Andersen took over leadership of the company, which was founded by Jeff Debrosse in 2014 at an incubator within Cybertech, a nonprofit organization Andersen founded for people in the cybersecurity and internet-of-things ecosystem. Tom Caldwell, a cybersecurity veteran who has started and sold multiple software startups, recently joined the company as chief technology officer.
$1.5M Seed Funding
Nxt has raised $1.5 million in seed funding and this summer signed its first contract, an agreement with San Diego-based Ace Parking to provide it with vehicles to test at various sites. Ace manages parking for some high-profile customers, including San Diego International Airport and the San Diego Convention Center.
"This isn't my grandfather's parking business anymore," said Keith Jones, managing principal and partner of the family-owned firm. He's not speaking metaphorically: His late grandfather, Evan Jones, launched the company in 1950.
Ace, which has more than 450 locations nationwide, recorded $750 million in revenue in 2017. About 40 percent of its 5,000-person workforce is in San Diego.
While Jones said the company has recently ramped up its use of technology, including fully automating a garage in Las Vegas, he says such moves are intended to augment, rather than replace, the people currently doing that work.
Collecting Data
"We're putting these automated systems in that are smarter so that the human side of these things can better manage the access to the customer experience," he said. "That's where we see robotics helping us in terms of being able to collect this data and provide us these analytics, so that ultimately we're seeing things we're not able to see currently."
In the Vegas garage, for example, analytics has helped the company understand how long a transaction typically takes in each lane through which vehicles enter. If that time passes and a vehicle hasn't proceeded, a remote attendant will chime in to assist.
An Nxt vehicle could collect such data, too — and it wouldn't be fixed to one location, but could roam throughout the garage, finding, for example, which areas were most used, and could therefore use a little extra janitorial attention. If it finds something that needs attention, it could send out a notification.

Andersen said companies like Ace could potentially use the robots for such activities, and for ensuring drivers have paid to be there by surveying the licenses plates in the garage and matching them against those that are permitted.
Pechanga Resort & Casino, the largest casino on the West Coast, this summer began deploying surveillance robots made by Mountain View-based Knightscope to bolster its 300-person security staff.
But such robots could also potentially serve in a customer service role, directing drivers to their vehicles and providing directions to nearby attractions, Andersen said.
Robot Beat
It was that duality — efficient enforcement coupled with an enhanced experience — that persuaded Shelley Zimmerman, San Diego's former police chief, to invest in Nxt's seed round. Zimmerman said the investment was the first she has made in an early-stage tech company.
Zimmerman knew Andersen from when he was chief operating officer at Eset, the Slovakia-based antivirus company that bases its North America operations in San Diego, during which time he was active in efforts to emphasize the importance of cybersecurity citywide and raised money for the San Diego Police Foundation.
Vehicles like those Nxt is designing could bolster the resources available to law enforcement, helping to solve conundrums like residents' requests for extra police patrols in their neighborhoods, she said.
In addition to Zimmerman and other private investors, Nex Cubed, a seed-stage investor with offices in La Jolla and San Francisco, joined the company's first financing round.
It's not just local companies that are looking to Nxt to improve security, however: It has done demonstrations for companies including Amazon and ADT, which provides home security systems.
Scott Hartley, a subcontractor for Connecticut-based United Rentals, the largest equipment rental company in the world, scouts new potential products for the company in the robotics, automation and internet-of-things sectors.
Hartley has been tracking Nxt's progress and says there is interest from United Rentals clients in the vehicles once they are commercially available. Customers, which include construction and utility companies, are looking for more efficient ways to patrol their properties, especially at nighttime, he said, and Scout — Nxt's latest autonomous security robot — is able to handle the uneven terrain often found at such sites.
"I've spent a lot of time at military demonstrations, and I think it stacks up well against others that I've seen," he said of Nxt's Scout, which he saw in action during a recent visit to the El Cajon lot.
Manufacturing
Andersen said Nxt plans to buy parts from China, manufacture the vehicles in Mexico and do final assembly at a factory in the Northern California city of Richmond. They will be available for lease and for sale.
Sensors with which the vehicle would be outfitted, such as a gunfire detection system to track the location of weapon fire or a gas detector for an energy company, would be tailored to the customer. The base model, Andersen said, would cost $60,000 to $80,000 per vehicle.
In late August the vehicle, which is painted safety orange and has a tall illuminated pole affixed to it for visibility, circled the El Cajon lot, following a path set for it by Nxt engineer Lydell Aaron. But its path was soon blocked by an orange traffic cone, so placed to show off its navigation abilities. As the vehicle approached the cone, it smoothly drove around it before returning to the predetermined route.