Downtown Apartment Boom Makes Room for More Millennials
Sunday, September 2, 2018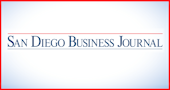 San Diego — Downtown San Diego is the golden child for apartment construction in 2018, according to a report from the commercial real estate brokerage firm JLL.
"Developers have been bullish on the demand for new apartments catering to the young population's desire for the 'live, work, play urban areas," JLL reported.
So far this year, nearly 2,000 new apartments have come on line downtown with a total for the year projected at a record high of 2,453 units.
There also are 3,641 apartments now under construction throughout downtown.
If downtown is hot for apartments, the temperature in East Village is off the charts, with 970 apartments completed so far in 2018 and 2,612 under construction.
Not surprisingly, downtown apartments are among the most expensive in San Diego County with monthly rates pegged at $2,479 by JLL, compared with a countywide average at $1,793.
What is a bit surprising is that downtown apartment buildings also have a vacancy rate of 16.2 percent compared with a countywide average of 4.2 percent.
"Landlords really push higher rents downtown and they're willing to accept higher vacancy in the short-term to try and lease their projects up at these higher rents," JLL theorized.