S.D. Agtech Startup Teams up with Microsoft
Wednesday, October 31, 2018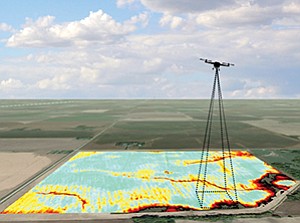 SlantRange Inc., a San Diego company that creates drone software to help farmers monitor their crops, struck a partnership with Microsoft Corp. The companies announced the deal on Oct. 31, which will create a new product for large-scale drone programs in agriculture.
SlantRange makes sensors and software for drones, which monitor fields by evaluating the quality of light coming off of them. The company also uses edge computing to process the data its sensors collect in the field.
The new service will combine SlantRange's capabilities with Azure IoT Edge, Microsoft's cloud analytics service for Internet of Things devices. SlantRange CEO Michael Ritter said it will incorporate new tools for data security, device management and distributed learning models.
"Ultimately, our combined technology will enable the latest advances in remote sensing and data science to be easily deployed anywhere in the world, including the most remote farming areas, while retaining all of the controls, features, and security expected of enterprise IT systems - and that will have a profound and positive effect on farm productivity around the world," Ritter said in a news release.
Ritter and Mike Milton, the company's vice president of engineering, co-founded SlantRange in 2013. The company closed on a $5 million series A round in 2016, and last year, SlantRange landed a contract with agriculture giant Bayer Crop Science.