TECH: NURTURING CO. AND WIDER CULTURE WILL SOLIDIFY HUB
Walmart Labs Sees Plenty In Store for Tech Scene
Tuesday, October 30, 2018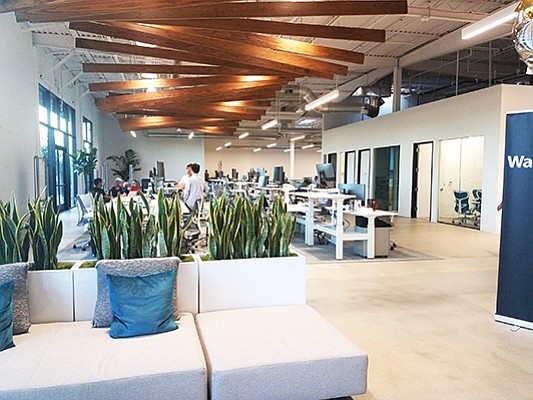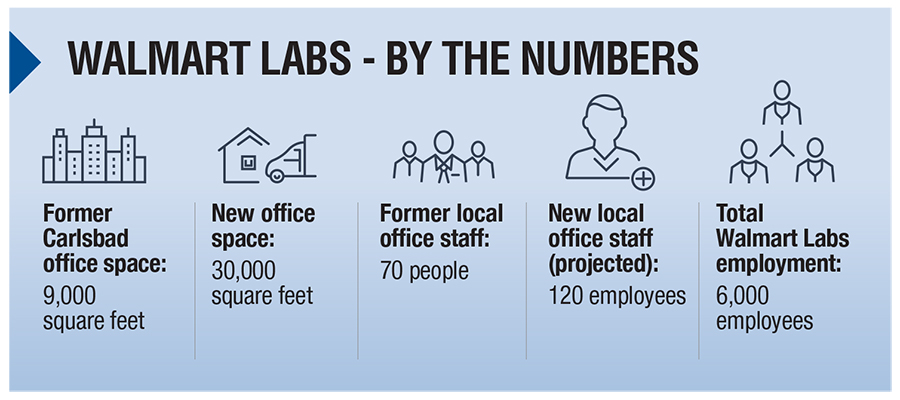 At the entrance to its new Carlsbad offices, Walmart Labs traded the retailer's iconic yellow spark for a glowing lightning bolt. The company hopes to sell workers on the opportunities at a business of Walmart's scale, with the excitement of working in tech.
Walmart Labs has been in Carlsbad for the last six years, and moved into the new offices at the beginning of October. But until recently, Walmart's tech arm had flown under the radar.
In September, the 70-person team announced it would nearly triple its employee base after it traded its dated, cramped offices for a brand-new space at the Make office campus. The move, along with Walmart Labs' plans to hire up to 120 employees, appears to have stoked a race with Amazon.com Inc., which announced shortly after that it would hire 300 employees at its offices in University City.
While the two retail giants battle for tech talent, San Diego leaders say it's just another sign of the region's growth as a tech hub.
"That adds a lot when you're talking about talent attraction and recruitment to San Diego," said Matt Sanford, director of economic development for the San Diego Regional Economic Development Corp. "San Diego has traditionally been very robust in life sciences. In the last five years, we've really seen a boom in software and technology applications. When we talk about the larger firms that have located their offices here, I think the flywheel is beginning to spin."
Lacked a Strong Identity
Early on, when Walmart Labs was a little-known entity on San Diego's tech scene, the company representatives recruited most employees through people they knew.
"It was a struggle. … Walmart has been here for six years and no one knew about us or what we did," said Claude Jones, senior director of engineering and site lead for Walmart Labs.
Back in 2012, Jones helped bring Walmart Labs to Carlsbad. At the time, he was working for Yahoo, which was closing its local office. Walmart was interested in creating a tech presence in the San Diego area, and wanted to recruit the outgoing Yahoo employees to the new office.

Jones and Bob Lowell, also a senior director of engineering, helped launch Walmart Labs' local office with a team of 13, tasked with building systems to support Walmart's grocery and retail businesses. That team quickly grew to 70 at the old office, where it was "bursting at the seams."
"As that started evolving over time, we got more responsibility and more people," Jones said.
Walmart Labs' new digs has all of the features you might expect from a modern tech company — open offices, wall-length whiteboards stretching across the walls and a game room. The campus, developed by Solana Beach-based Cruzan, also has an outdoor amphitheater, onsite gym and space to store bikes and surfboards.
Jeremy King, Walmart's chief technology officer, said the company began looking for the new space about 10 months ago.
"We want to be thoughtful about the different places we go to," he said. "We looked at places that are close to the headquarters, easy to get to, that have good talent and we found it here."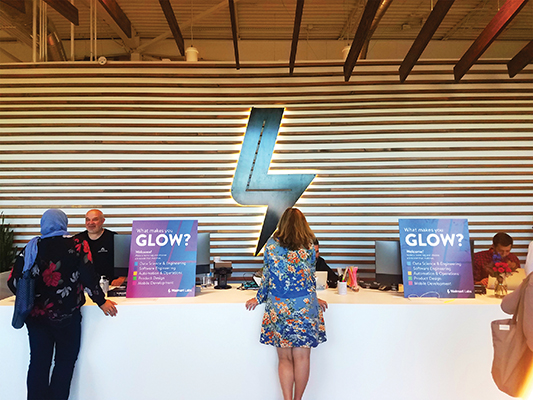 The Right Mix
King sees Carlsbad as an up-and-coming tech hub, with well-known companies, such as Viasat, mixed in with several tech and life sciences startups. The company shares the Make campus with a handful of fast-growing tech companies, such as construction software company Raken, which recently closed a $10 million Series A round. King estimated there are another 10 or 12 startups within a quarter mile of the new offices.
"You want to work in a place where there are a whole bunch of other technologists around," he said. "We found incredibly solid talent."
Jones sees a potential role for Walmart Labs in serving as a meeting place for startups located between downtown San Diego and Irvine.
"Can we open our offices to tech and startup companies to stimulate ideas, thoughts and opportunities for other people?" he said. "That's what we wanted."
Room to Grow
Walmart Labs is headquartered in Mountain View, California, and has about 6,000 employees. The Carlsbad team manages the company's cloud database systems, and builds tools for mobile app and web development.
Christine Marcella, economic development manager for the city of Carlsbad, said the new offices should help Walmart Labs better compete for talent. She said the pool of local tech workers is far from tapped, and sees plenty of room for growth for tech companies in the area.
In the long run, Sanford, with the regional EDC, agreed that having both Walmart and Amazon would bolster San Diego being targeted as a growth market.
"When a firm talks about expansion or coming into San Diego, the initial reaction is they're going to be robbing other companies," he said. "There may be that initial shuffle, but in the long run, we get a large asset."
In the last few years, Viasat has undertaken multiple expansion projects, while local startups such as Raken and Airspace Technologies closed significant financing rounds. Marcella said she also saw Silicon Valley-based tech companies, such as Palo Alto-based Metawave or Irvine-based CalAmp, look to Carlsbad to open new offices.
The Space Is There
"We're just seeing growth at all levels," Marcella said. "The region has been pushing strongly to elevate San Diego's place on the map for talent and tech companies. We have long been a life sciences and research hub. I think we have really galvanized the voice of our tech community."
Part of the draw, Marcella said, was the community's untapped talent, which boasts more senior tech workers. Carlsbad in particular also has room for companies to grow. Marcella said the community is bringing more than 1 million square feet of commercial industrial space online for companies moving to the area, or like Walmart, looking for a more modern office.
"If companies can find space for tech talent to go, they will find opportunities for growth in San Diego," she said.