TECH: NURTURING CO. AND WIDER CULTURE WILL SOLIDIFY HUB
Walmart Labs Sees Plenty In Store for Tech Scene
Tuesday, October 30, 2018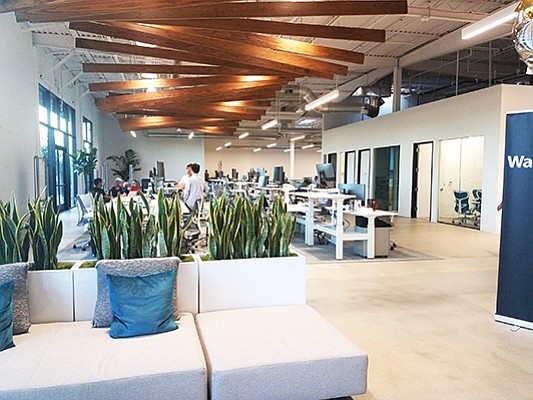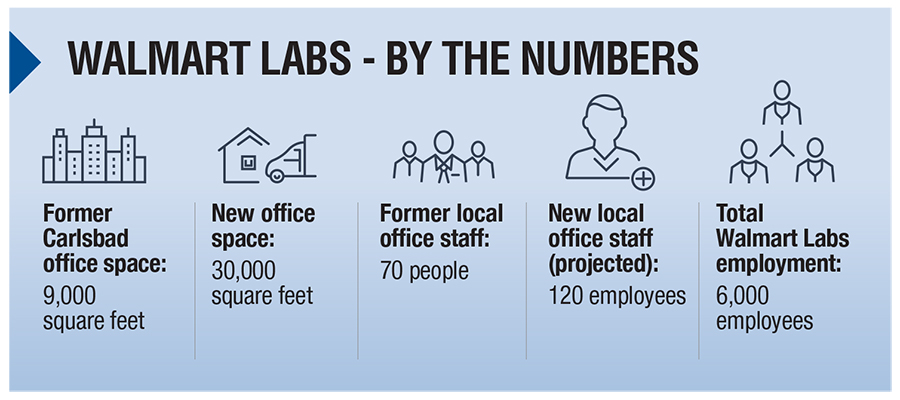 At the entrance to its new Carlsbad offices, Walmart Labs traded the retailer's iconic yellow spark for a glowing lightning bolt. The company hopes to sell workers on the opportunities at a business of Walmart's scale, with the excitement of working in tech.
Walmart Labs has been in Carlsbad for the last six years, and moved into the new offices at the beginning of October. But until recently, Walmart's tech arm had flown under the radar.
In September, the 70-person team announced it would nearly triple its employee base after it traded its dated, cramped offices for a brand-new space at the Make office campus. The move, along with Walmart Labs' plans to hire up to 120 employees, appears to have stoked a race with Amazon.com Inc., which announced shortly after that it would hire 300 employees at its offices in University City.
While the two retail giants battle for tech talent, San Diego leaders say it's just another sign of the region's growth as a tech hub.
"That adds a lot when you're talking about talent attraction and recruitment to San Diego," said Matt Sanford, director of economic development for the San Diego Regional Economic Development Corp. "San Diego has traditionally been very robust in life sciences. In the last five years, we've really seen a boom in software and technology applications. When we talk about the larger firms that have located their offices here, I think the flywheel is beginning to spin."
Lacked a Strong Identity
Early on, when Walmart Labs was a little-known entity on San Diego's tech scene, the company representatives recruited most employees through people they knew.
"It was a struggle. … Walmart has been here for six years and no one knew about us or what we did," said Claude Jones, senior director of engineering and site lead for Walmart Labs.
Back in 2012, Jones helped bring Walmart Labs to Carlsbad. At the time, he was working for Yahoo, which was closing its local office. Walmart was interested in creating a tech presence in the San Diego area, and wanted to recruit the outgoing Yahoo employees to the new office.

Jones and Bob Lowell, also a senior director of engineering, helped launch Walmart Labs' local office with a team of 13, tasked with building systems to support Walmart's grocery and retail businesses. That team quickly grew to 70 at the old office, where it was "bursting at the seams."
Prev Next