BUILDING: ELECTRICAL CONTRACTOR HAD 2017 REVENUE OF $624 MILLION
Versatility Allows Helix to Tackle Variety of Jobs
Sunday, October 28, 2018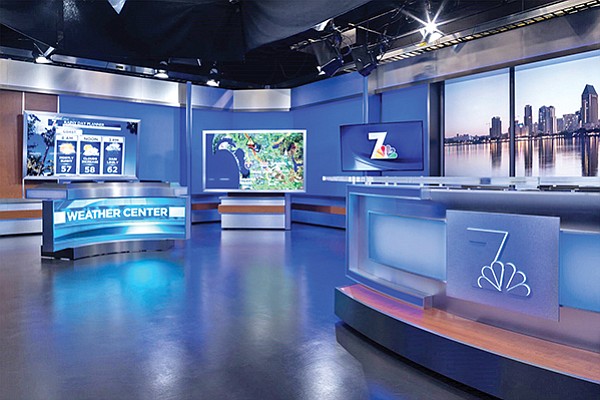 HELIX ELECTRIC INC.
CEO: Gary Shekhter
Revenue: $624 million in 2017; $525 million in 2016
No. of local employees: 120
Investor: Gary Shekhter is sole owner.
Headquarters: Mira Mesa
Year founded: 1985
Company description: Full-service electrical contractor
It might not sound all that appealing, but for an electrical contractor, a wastewater treatment plant is a thing of beauty.
Such a project "can really carry you for a while with revenue," said Brian Jordan.
Jordan is executive vice president of Helix Electric Inc. The Mira Mesa company is the 10th largest electrical contractor in the nation, as ranked by Electrical Construction and Maintenance magazine, with 2017 revenue of $624 million. Helix has been growing. Revenue is up 19 percent from $525 million in 2016.
A water treatment plant or a wastewater treatment plant can be a great job, said Jordan, the company's executive vice president. Such facilities are large. What's more, work can stretch over four to five years.
Helix is a full-service electrical contractor with no one area of emphasis. The company has learned how to do several types of projects.
High-Rise Buildings
Over the last 20 years, Helix has had a lot of work with multifamily high-rise buildings downtown.
Another typical job would be the 170,000-square-foot Vertex Pharmaceuticals building in San Diego's Torrey Pines neighborhood, part of Helix's life science portfolio.
Helix has also been able to successfully nab work with the federal government. Projects include the National Security Agency's East Campus Building 2 at Fort Meade, Maryland. It includes an 850,000-square-foot mission critical facility, a 1 million square foot parking structure expansion, and a 35.5 megawatt generator plant expansion. It's a complex project, Jordan said. He declined to elaborate, but said Helix's client needed a "very sophisticated" electrical system.
Federal work has taken Helix as far away as Guam.
TV Work
One of the company's more unique, recent jobs was the NBC 7 broadcast studio in Kearny Mesa. "It's not too often you do a new TV studio," Jordan said of the project, completed in 2016.
Helix's San Diego office oversees three other offices in California, two in Nevada, one in Hawaii, and an office in Chantilly, Virginia — a few miles outside the Washington, D.C., beltway. Complementing the San Diego office is a shop in Lake Elsinore for pre-fabricating components.
All told, the company has roughly 2,600 employees.
Helix is a non-union company, a fact that has rubbed some in the construction industry the wrong way.
Merit Philosophy
The firm operates on a merit philosophy, said Mayra Martinez, the firm's vice president of talent. As such, the firm attracts "very type-A, driven people."
At the moment, Helix has 225 open positions, said Martinez. Her job, she said, is to go after "a dwindling pool of talent."
Filling positions in Hawaii "has been a challenge," she added.
Helix offers great benefits, Martinez said. Employees can choose from seven medical packages. She added that the average tenure at the company is 11 years. "That's huge for a 35-year-old company."
Helix is led by Gary Shekhter, who grew up under Soviet rule in Odessa, the port city in the Ukraine. Shekhter was able to immigrate to the United States in 1979. After several years of work with other electrical contractors, he founded Helix in 1985.
Jordan is marking his 30th year with the company. He began as a superintendent, one of six in the company. Now Helix has 200 superintendents.
In the early days, Helix was "small, scrappy and driven," Jordan said. "Even then, we were detail oriented."
Downturn Becomes Training Opportunity
Helix used the recession years of 2008 through 2011 to make investments in estimating, marketing and training. Asked whether that might have been a risk, Jordan said no. "We knew the market was going to come back."
Nowadays the United States is experiencing an extraordinarily long bull market. When the downturn comes, Jordan said, he feels Helix will be well situated.
San Diego has a "growing reputation" in life science and Jordan predicts future business in that market. On top of that, he said, UC San Diego is building on its campus.
Defense Department work will continue to be strong, he also said. Helix is a short distance from the Pentagon in its Chantilly office — a location from which it can reach the entire mid-Atlantic market.