Some Taste Tempting Destinations Are Being Added to the Food Map
Sunday, October 28, 2018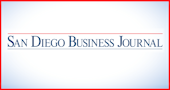 Duck Donuts in Encinitas. Dog Haus Biergarten in Vista. Surf Rider Pizza in La Mesa. North Italia in Fashion Valley.
From sit-down Italian to family-friendly beer garden to quick bites to sweets, the list of recent eateries to open or soon-to-be-open in
San Diego offers a little bit of everything for everyone. Meanwhile, locally-based Everbowl continues expanding, this time in Orange County.
Duck Donuts Franchising Co.
Headquartered in North Carolina, Duck Donuts opened its second store early October in Encinitas, California. The first was in Huntington Beach. The 1,150 square foot shop, owned by Brad and Laura Aughinbaugh and located in the Village Square on Encinitas Boulevard, will offer made-fresh-daily donuts, customizable doughnuts that can be personalized with a variety of coatings, toppings and drizzles, doughnut sundaes, and coffee blends including Riptide Roast, Light House Blend and Sunset Pier Decaf.
"We fell in love with Duck Donuts while sitting on the shores of Duck, North Carolina, watching the sun rise over the Atlantic Ocean and we knew San Diego needed Duck Donuts while watching the sun set over the Pacific Ocean," said Laura Aughinbaugh via a news release.
Let's Be Frank
Hot Dog-focused Dog Haus opened the doors to its third location in San Diego County, Dog Haus Biergarten, in Vista on Oct. 20th. All three Sand Diego craft casual-concept properties, which offer chef-inspired creations of hot dogs, sausages, burgers and fried chicken sandwiches, are owned by franchisees Scott Lee and Henry Lee. A fourth location is scheduled to open in Chula Vista early next year.
Some favorites off the menu include "Sooo Cali," which features wild arugula, avocado, tomato, crispy onions and spicy basil aioli, and "The Fonz," with spicy Italian sausage, pastrami and cheddar cheese sauce. Dog Haus Biergarten also offers sliders, sides and shakes as well as draft or canned beer. Founded by Hagop Giragossian, Quasim Riaz and André Vener in Pasadena in 2010, Dog Haus credits its popularity to its signature all-beef dogs, hand-crafted sausages with no added nitrites, 100 percent black angus beef burgers, and fried chicken sandwich made with hormone and antibiotic-free meat.
Pizza and Beer
Surf Rider Pizza Co.'s newest La Mesa location is scheduled to open the first week of November. The 4,158 square foot restaurant, which will offer East Coast-style pizza made with hand-tossed dough, whole milk mozzarella and baked in fire-heated brick ovens, will be the largest space thus far and will become the company's flagship store. In tribute to the first Surf Rider Pizza Co. location, which had an old bakery onsite, the La Mesa spot will also have a bakery for patrons to order cakes and pastries. Other offerings include salads, Stromboli and cheesesteaks. Additionally, the La Mesa restaurant, owned by The Patio Group, a division of American National Investments, will include Himmelberg's Bar, named after Joey Himmelberg, late friend of CEO Gina Champion-Cain. The location will serve the "Himmel Brew," brewed by Mission Brewery, in honor of his memory, as well as classic cocktails, wine and other beer selections.
Passion for Pasta
North Italia will open a new 8,500 square foot location inside Fashion Valley mall, which will accommodate up to 295 guests by way of its indoor dining area and outside patio, this fall. The 15th North Italia location, owned by Fox Restaurant Concepts, features modern Italian plates, including made-fresh-daily pasta, chef's choice pizza, squid ink mafaldine and red-wine-glazed short ribs, among other items.
Nutrition on a Mission
Speaking of new restaurants… San Diego-based Everbowl superfood chain has opened its 15th shop, debuting in Orange County, right in time for its two-year anniversary.
"Driving the expansion is our commitment to making healthy eating accessible and affordable for everyone," founder Jeff Fenster said via a news release. "Our goal is to open as many stores as we can as quickly as possible, because this kind of food should be available to everyone."
The quick-serve, counter-service restaurant is best known for its no-sugar-added, organic acai bowls, which sources the fruit straight from its production facility in Brazil. It also offers other "craft superfood" bowls and smoothies, including pitaya, graviola and acerola based-options with add-ins like bee pollen and flaxseeds. Each bowl is $8 and includes unlimited ingredients.
Everbowl currently averages about 60,000 bowls monthly, according to the company and hopes to go national as soon as 2019.