MEDTECH: RA MEDICAL RAISES $66.3 MILLION IN SEPTEMBER IPO
Smaller Medical Device Cos. Also in Position to Deliver
Sunday, October 28, 2018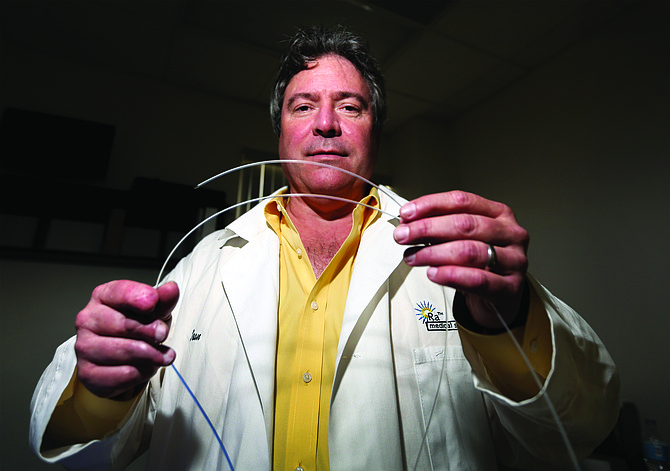 While the big dogs of San Diego's medical device scene are putting up strong numbers, the region's smaller players in the space can't be overlooked.
The up-and-comers are on the frontiers of treating artery-blocking diseases, trauma and spine issues.
The latest to stir San Diego: Carlsbad's Ra Medical Systems became a public company Sept. 27, raising $66.3 million in its trading debut. The company's laser catheter treats what's called peripheral artery disease, or PAD, which can block arteries and even lead to amputations.
Ra Medical posted revenue of $5.97 million in 2017 and $5.87 million in 2016, according to financial documents.
Dabra System
Its device is called the Dabra system, in development for about a dozen years. After all, this isn't a sector of overnight success stories.
Irras Ab, legally headquartered in Stockholm, Sweden, but with the bulk of operations in La Jolla, itself hit milestones in the last year. The company won U.S. Food and Drug Administration approval for its flagship device that reduces the chances of infection while helping doctors lessen pressure at the site of trauma.
The device, Irraflow, is designed for hemorrhagic stroke, which occurs after severe trauma or brain aneurism. Blood vessels rupture, creating swelling and pressure that damages cells and tissue.
Irraflow encapsulates breathing mechanisms, targeted infusion and intracranial pressure monitoring in a single system, automated by proprietary software.
It's expected Irras will begin selling the device later this year.
Last November, Irras listed on the Nasdaq First North Premier in Stockholm, waiting to grow revenues to file on a North American stock exchange.
Alphatec
Carlsbad-based Alphatec this spring made a flurry of moves. In the business of spine surgery, Alphatec acquired SafeOp, which makes neuromonitoring technology to prevent nerve injury. The company also raised $50 million in a private placement. It too installed as Patrick Miles, previously Alphatec's executive chairman, as CEO.
Miles was thrust further into the spotlight a year ago when his former employer — NuVasive, a much larger spine medtech in San Diego — filed a breach-of-contract lawsuit against him. Miles denied the allegations of the lawsuit, proof that while San Diego medical device companies are eager to partner, the industry is competitive locally.
In August, Alphatec reported $22 million in second quarter revenue, and presently has a market cap of $136.09 million.
Another company in the spine arena: SeaSpine, also out of Carlsbad. In second quarter results in July the company listed $36.4 million in revenue, with a current market cap of $298.7
million.
Ancillary Medical Device Cos.
Then there are ancillary medical device companies locally. One is MedCrypt, which has locked down $3 million so far to help medical device vendors build cybersecurity features directly into their products. It's an in-demand service amid rising fears of hacking and breaches.