DEVICES: REGION ALSO HAS STRONG EXEC BULLPEN, PARTNERSHIP POSSIBILITIES
Device Cos. Flourish as Technology, Talent and Data Are Powering Growth
Sunday, October 28, 2018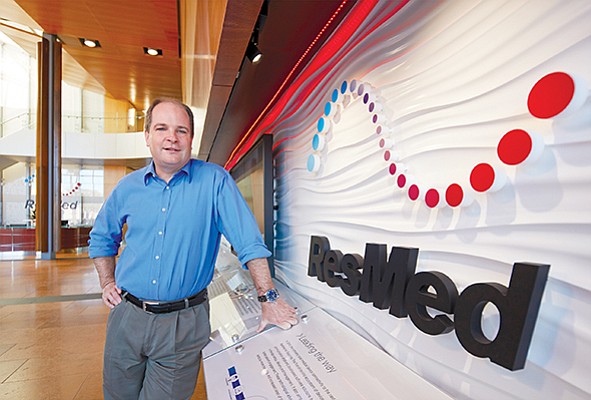 Largest Homegrown Medical Device Companies Soaring
ResMed Revenue:
2017: $2.1B
2016: $1.8B
2015: $1.7B
Dexcom Revenue:
2017: $718.5M
2016: $573.3M
2015: $402M
NuVasive Revenue:
2017: $1.02B
2016: $962.1M
2015: $811.1M
Source: Company financial statements. Data compiled by Jared Whitlock.
About a decade ago, Dexcom executives explored a wild idea: a constant reading of glucose levels beamed to a smartphone.
What seemed far-flung became reality several years through Dexcom's quarter-sized sensor worn on the abdomen, which measures blood sugar levels and alerts users when hitting fringe levels.
The latest Dexcom diabetes monitoring doesn't require finger prick blood draws for calibration, and the company moved toward automated insulin delivery, in partnership with another San Diego firm: pump maker Tandem Diabetes Care.
"Being in San Diego gives us the opportunity to work very closely with them," said Dexcom CEO Kevin Sayer.
San Diego's homegrown medical device industry is soaring with partnerships, a proliferation of data and technology breakthroughs. The rise can be attributed as well to an aging population hungry for individualized medicine.
Stock Performance
Looking at third quarter stock performance among the largest public life science companies in San Diego, medical device firms took the top three growth spots. No. 1 was Tandem Diabetes Care, a comeback story built on rising sales of its touchscreen insulin pumps.
In addition, company financials since 2015 show local medtechs on big growth curves. Take Dexcom — the company posted $718.5 million in 2017 revenue, compared with $573.3 million the prior year and $402 million in 2015.
The Quiet Competitors
While many associate San Diego with genomics and drugmakers, the region is also a growing force in medical devices, encompassing everything from sleep monitoring to diabetes care to spine surgery.
Medical device companies plod along, at least compared with drugmakers operating in a world of sharp expansion and contraction that captures public attention.
"Big blockbuster pharma drugs make so much news," said Sayer. "Our technologies get adopted more gradually."
Minneapolis, home to behemoth Medtronic, has long served as the epicenter of medical devices. But San Diego burns increasingly brighter on the map.
"San Diego itself could be considered one of the top three regions across the U.S. for new innovation within medtech," said Margaret Kaczor, an equity research analyst with William Blair, who covers medical device companies.
Kaczor chalked this up to success breeding success, notably Dexcom being followed by other San Diego diabetes companies, including GlySens and Companion Medical.
She also cited bonds between medical device companies, hospitals and research institutions in the quest for better clinical outcomes. ResMed, for instance, in 2015 donated $5 million to UC San Diego for the study and care of sleep disorders.
Prev Next