STARTUPS: FEMALE FOUNDED COMPANIES ARE SECOND INCUBATOR GROUP
Ad Astra's Biotech Cohort Gets Feedback, Mentorship and Money
Originally published October 28, 2018 at midnight, updated October 29, 2018 at 5:52 p.m.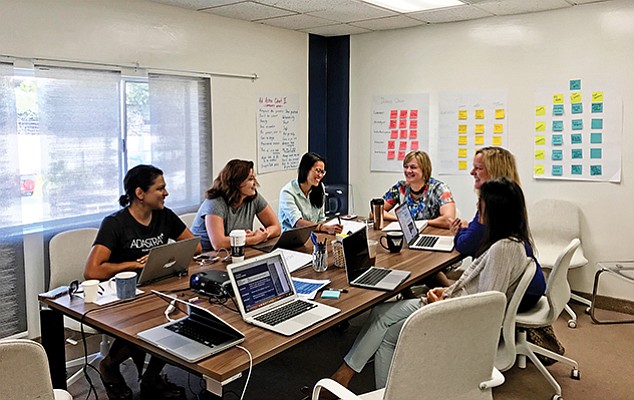 She has four working prototypes of the device, and 20 athletes signed up to test it. For her, the next step is to build out her team.
"It's brand new, but I just feel like I can't lose," Chen said. "I'm excited getting up every day going into work. I'm just so thankful."
In the long-term, she hopes hydration monitoring will become as ubiquitous as heart rate monitoring in wearable devices.
Kate Dilligan, founder of Cooler Heads
Kate Dilligan's inspiration for Cooler Heads, a medical device startup, stemmed from her own brush with cancer. Two years ago, Dilligan was executive vice president of AI startup KnuEdge when she was diagnosed.
"Getting a cancer diagnosis is like being hit by a Mack truck. It's just clear that your whole life is going to change in an instant," she said. "One of the things I started thinking about is how is this diagnosis going to change my identity?"
After some research, Dilligan found out about cold caps, which are applied before, during and after chemotherapy to prevent hair loss. The process involved applying caps frozen in dry ice every half-hour, with the help of an assistant, which cost thousands of dollars.
"I kept thinking to myself, 'There's got to be a better way to do this.'"
Dilligan designed a cold cap attached to a portable cooling device that patients can apply themselves, making it much less costly. She plans to seek Food and Drug Administration approval as a predicate device, as well as insurance coverage for the devices, which would be rented out to patients.
Now halfway through the Ad Astra program, Dilligan said mock investor conversations and honest feedback from the small group of mentors had been the most helpful in honing her business.
"It's such a huge testament to them that they're not only investing their own money, but so much time and thought," Dilligan said.
Cooler Heads is currently in the midst of raising a seed round. Dilligan is also focused on building out her team, including a chief technology officer, and a head of industrial design and manufacturing. She also is looking to add to her strategic advisory board with oncology and medtech experts.
Julie Collens, co-founder of Vivid Genomics
Julie Collens co-founded Vivid Genomics this year. She brings her past experience in genomics, molecular diagnostics and life science tools to the company as its CEO.
Collens previously served as senior manager of market development for complex disease for Illumina. She left the genetic sequencing company to focus more on neurodegenerative diseases.