STARTUPS: FEMALE FOUNDED COMPANIES ARE SECOND INCUBATOR GROUP
Ad Astra's Biotech Cohort Gets Feedback, Mentorship and Money
Originally published October 28, 2018 at midnight, updated October 29, 2018 at 5:52 p.m.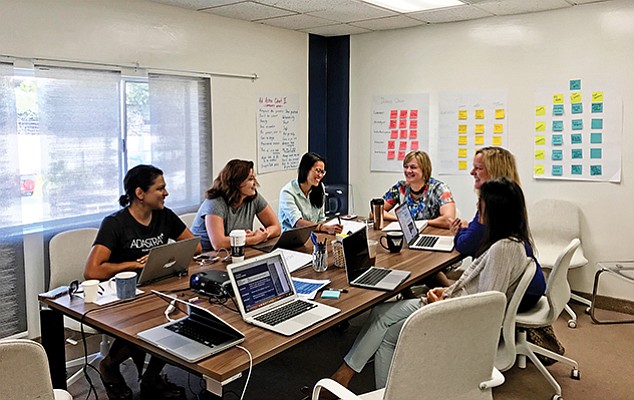 Ad Astra Ventures, the new incubator for local female-led companies, continued to grow with its second cohort this fall.
The incubator graduated its first three businesses in May in the software sector. After fielding about 80 applications, it is bringing up a group of three female-founded biotech startups: Hydrostasis, Cooler Heads and Vivid Genomics.
Ad Astra was founded in early 2018 by three well-known San Diego investors: Silvia Mah, head of local women's business accelerator Hera Labs; Allison Long Pettine, founder of early investment fund Seed San Diego; and Vidya Dinamani, a former vice president with insurance software company Mitchell International. The 12-week program includes small group and one-on-one discussions, and is built specifically for female entrepreneurs.
The three selected companies each receive $20,000 in investment and mentorship in exchange for a 3 to 5 percent equity stake.
Nearly halfway through the 12-week incubator, the founders shared their progress and future plans:
Debbie Chen, founder of Hydrostasis
Debbie Chen's startup, Hydrostasis, uses wearable sensors to measure hydration. She sees near-term uses for athletes, and hopes to expand it to medical uses, such as geriatrics, pediatrics and kidney disease, in the long-term.
A former imaging scientist at the Sanford Burnham Prebys Medical Discovery Institute, Chen first had the idea for Hydrostasis when she was working on her thesis at Tufts University. At the time, she was working on a project that involved avoiding signals of hydration. That inspired her to do the opposite.
"I thought, wouldn't it be awesome if we could measure hydration?" she said.
Chen returned to San Diego for her postdoc. She took on a variety of work, from developing 3-D microscopes for the Scripps Institution of Oceanography, to working in imaging for drug discovery. She also went through a micro-MBA course at UC San Diego, when one of her professors encouraged her to move forward with her idea for hydrostasis.
"I wasn't ready," she said. "Toward the end of the program, I was pregnant with my second child. I had family take over."
After a couple of fits and starts, Chen began training in muay thai and joined Hera Labs.
"I needed something new and to feel empowered. That's why I started training," she said. "I was really fired up with the idea again."
Chen bootstrapped her company, in addition to the funding from Ad Astra. She recently closed a friends and family investment round, and plans to open a seed round in the next few months.
She has four working prototypes of the device, and 20 athletes signed up to test it. For her, the next step is to build out her team.
"It's brand new, but I just feel like I can't lose," Chen said. "I'm excited getting up every day going into work. I'm just so thankful."
In the long-term, she hopes hydration monitoring will become as ubiquitous as heart rate monitoring in wearable devices.
Kate Dilligan, founder of Cooler Heads
Kate Dilligan's inspiration for Cooler Heads, a medical device startup, stemmed from her own brush with cancer. Two years ago, Dilligan was executive vice president of AI startup KnuEdge when she was diagnosed.
"Getting a cancer diagnosis is like being hit by a Mack truck. It's just clear that your whole life is going to change in an instant," she said. "One of the things I started thinking about is how is this diagnosis going to change my identity?"
After some research, Dilligan found out about cold caps, which are applied before, during and after chemotherapy to prevent hair loss. The process involved applying caps frozen in dry ice every half-hour, with the help of an assistant, which cost thousands of dollars.
"I kept thinking to myself, 'There's got to be a better way to do this.'"
Dilligan designed a cold cap attached to a portable cooling device that patients can apply themselves, making it much less costly. She plans to seek Food and Drug Administration approval as a predicate device, as well as insurance coverage for the devices, which would be rented out to patients.
Now halfway through the Ad Astra program, Dilligan said mock investor conversations and honest feedback from the small group of mentors had been the most helpful in honing her business.
"It's such a huge testament to them that they're not only investing their own money, but so much time and thought," Dilligan said.
Cooler Heads is currently in the midst of raising a seed round. Dilligan is also focused on building out her team, including a chief technology officer, and a head of industrial design and manufacturing. She also is looking to add to her strategic advisory board with oncology and medtech experts.
Julie Collens, co-founder of Vivid Genomics
Julie Collens co-founded Vivid Genomics this year. She brings her past experience in genomics, molecular diagnostics and life science tools to the company as its CEO.
Collens previously served as senior manager of market development for complex disease for Illumina. She left the genetic sequencing company to focus more on neurodegenerative diseases.
Alzheimer's Disease was an obvious target, Collens said, because there are no approved drugs that can cure or slow its onset, and there's a large genetic component of the disease. By incorporating genetics into clinical trials, researchers had a better chance at finding a treatment that could be a success.
"I realized that to really push this forward, I would have to start a company," Collens wrote in an email.
Her company uses genomics and machine learning to screen patients for clinical trials. As is now being done with cancer patients, Vivid Genomics is seeking to match patients with neurodegenerative diseases, such as Alzheimer's, to treatments that would be appropriate for their disease.
Vivid Genomics is also developing tools to identify the underlying pathways for neurodegenerative disease, progression rate and drug response.
Collens' co-founder, Ilya Chorney, serves as the company's chief business officer. They operate the company out of Johnson & Johnson LLC's JLABS incubator near Torrey Pines.
Collens said the company raised an angel round in early 2018, which it used to make progress through a collaboration with the National Institutes of Health, including developing four tests. In the next few months, Vivid Genomics will raise $2.5 million to add members to its scientific team, further validate two of its assays and get to its first customers.

Note: This story has been updated with additional information on Vivid Genomics