STARTUPS: FEMALE FOUNDED COMPANIES ARE SECOND INCUBATOR GROUP
Ad Astra's Biotech Cohort Gets Feedback, Mentorship and Money
Originally published October 28, 2018 at midnight, updated October 29, 2018 at 5:52 p.m.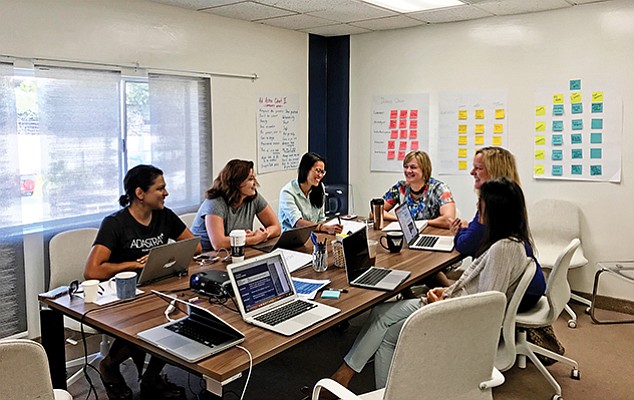 Ad Astra Ventures, the new incubator for local female-led companies, continued to grow with its second cohort this fall.
The incubator graduated its first three businesses in May in the software sector. After fielding about 80 applications, it is bringing up a group of three female-founded biotech startups: Hydrostasis, Cooler Heads and Vivid Genomics.
Ad Astra was founded in early 2018 by three well-known San Diego investors: Silvia Mah, head of local women's business accelerator Hera Labs; Allison Long Pettine, founder of early investment fund Seed San Diego; and Vidya Dinamani, a former vice president with insurance software company Mitchell International. The 12-week program includes small group and one-on-one discussions, and is built specifically for female entrepreneurs.
The three selected companies each receive $20,000 in investment and mentorship in exchange for a 3 to 5 percent equity stake.
Nearly halfway through the 12-week incubator, the founders shared their progress and future plans:
Debbie Chen, founder of Hydrostasis
Debbie Chen's startup, Hydrostasis, uses wearable sensors to measure hydration. She sees near-term uses for athletes, and hopes to expand it to medical uses, such as geriatrics, pediatrics and kidney disease, in the long-term.
A former imaging scientist at the Sanford Burnham Prebys Medical Discovery Institute, Chen first had the idea for Hydrostasis when she was working on her thesis at Tufts University. At the time, she was working on a project that involved avoiding signals of hydration. That inspired her to do the opposite.
"I thought, wouldn't it be awesome if we could measure hydration?" she said.
Chen returned to San Diego for her postdoc. She took on a variety of work, from developing 3-D microscopes for the Scripps Institution of Oceanography, to working in imaging for drug discovery. She also went through a micro-MBA course at UC San Diego, when one of her professors encouraged her to move forward with her idea for hydrostasis.
"I wasn't ready," she said. "Toward the end of the program, I was pregnant with my second child. I had family take over."
After a couple of fits and starts, Chen began training in muay thai and joined Hera Labs.
"I needed something new and to feel empowered. That's why I started training," she said. "I was really fired up with the idea again."
Chen bootstrapped her company, in addition to the funding from Ad Astra. She recently closed a friends and family investment round, and plans to open a seed round in the next few months.
Prev Next