A New Generation of Wealth Managers Adopts More Active Roles
Thursday, October 25, 2018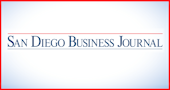 A new generation of wealth managers is poised to take the reins of the profession from their elders, as the wealth management industry undergoes a series of significant changes, from a greater role for technology to evolving expectations on the part of investors.
Two San Diego-based wealth management professionals — Christopher Ficara and John Naviaux, both of Merrill Lynch's Rancho Santa Fe office — are part of this new wave of practitioners. Both men were recently selected by Forbes magazine for its 2018 list of "America's Top Next-Generation Wealth Advisors."
Forbes selected 1,000 wealth management advisers from across the country for its list, all of whom were born in 1980 or later, and considering such criteria as industry experience, revenue produced and assets under management.
Ficara, 33, has been with Merrill Lynch for 11 years, while Naviaux, 36, has been with the company for 7 years. Both of them have witnessed changes in the industry since they began their wealth management careers, and both seek to become leaders in their profession in the coming decades.
Fee Structure
In the past, said Ficara, advisers generally earned their money on commissions from the investment products they sold to clients, or from fees on transactions such as selling stocks or bonds.
Today, advisers are more likely to charge an annual fee based on the clients' full portfolio, and advisers also work closely with clients to meet financial goals based on their individual needs, whether it's planning for retirement, their children's college education or creating a business succession plan.
Much More Collaborative
"It's much more collaborative now, I think people are looking for a partner, rather than a product or a transaction," Ficara said.
Investors want advice from a professional who "knows their situation and goals and objectives. That's what I see them wanting," said Naviaux.
Another area of change in the wealth management industry, said both Ficara and Naviaux, is a desire by clients to have online access to their accounts from their cellphones, tablets and computers. And that desire for connectivity, said Naviaux, is sought not just by millennials, but by older generations such as baby-boomers.
"Technology is becoming so essential to the business," said Ficara.

Merrill Lynch and other financial services firms have developed apps that allow checks and other documents to be scanned and sent in, saving customers extra trips to see their banker or financial adviser.

Along with new technology, clients want the convenience of making one phone call and being able to handle a number of financial needs, rather than having to call multiple service providers.
"People really appreciate being able to take care of a lot of their financial needs in one place," said Ficara, whether it's getting access to their accounts, ordering new checks, or making a trade or wire transfer.
"We help manufacture time for our busy clients," said Naviaux, by offering them a wide range of financial services. "It's very valuable to these clients and their families."
A survey published in 2017 by the CFA Institute, a global association for investment professionals, asked both wealth management advisers and wealthy individuals which aspects of the wealth management profession they believe will be most important over the next five years.
Bob Dannhauser, head of private wealth management with the institute, said the survey showed an appetite for new technology by both groups, as well as a continued demand for human advisers to assist clients in setting and meeting their financial goals.
"We don't see evidence of human advisers being taken out of the equation, but we see a desire for technology to be added to the mix," Dannhauser said.
Looking for Trouble
Investors also said in the survey that they want their advisers to have "the ability to look around corners and see what's coming," Dannhauser said.

"They told us they want advisers to have the ability and training to see potential opportunities and risks coming and to take appropriate actions. Not just reacting but thinking strategically," he said.
Clients have also become more aware of potential conflicts on the part of their financial advisers, so it is important for advisers to both minimize conflicts wherever possible, and to be up front with their clients about potential conflicts that do exist, said Dannhauser. The increased awareness may be due to the efforts of government regulators, who in recent years have sought to strengthen requirements for advisers to have a fiduciary duty to those they advise.
Social and Governance Issues
Also on the rise is ESG investing, or environment, social and governance issues, said Tom Warschauer, professor emeritus at San Diego State University's Fowler College of Business. The trend is also known as sustainable investing. Essentially, investors want to put their money behind companies that share their values in terms of environmental stewardship, labor practices and other factors.
That can translate into sectors that investors want to avoid, such as gun makers or tobacco companies, experts say.
Warschauer said he teaches a course in financial literacy for college freshmen, and among that group, the propensity toward socially responsible investing is much higher than in the general population.
"It's clearly a growing area and I suspect it will continue to grow," Warschauer said.
Investment firms are creating new ETFs (exchange-traded funds), designed for socially conscious investors, said Warschauer. However, calibrating the funds to align with the values of individual investors can be tricky, as values can vary so widely among investors.
The downside to investing based on socially responsible or sustainable criteria, said Warschauer, is that it limits the available investment options for a given portfolio.
"There's no question that by limiting an investment manager from certain areas, you are creating less diversity in a portfolio and therefore taking more risk than you need to take," Warschauer said.
Whether clients want to invest in a company with a good environmental track record, plan for retirement or simply grow their nest egg, the financial advisor's job is to provide timely information for making good decisions, said Naviaux.
"We're giving them the tools to make that informed decision," he said.