FINANCE: SAN DIEGO SEES TWO DEALS DOMINATE
Local VC Mirrors National Trend: Dollars Up, But Deals Down
Wednesday, October 24, 2018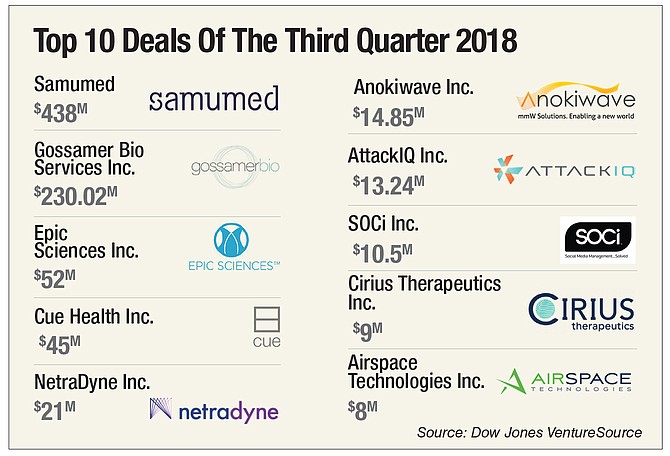 Big biotech deals drove record levels of capital investment, according to a report released Oct. 11 by Dow Jones VentureSource.
In the San Diego metro area and nationally, fewer, bigger deals accounted for the bulk of the investment.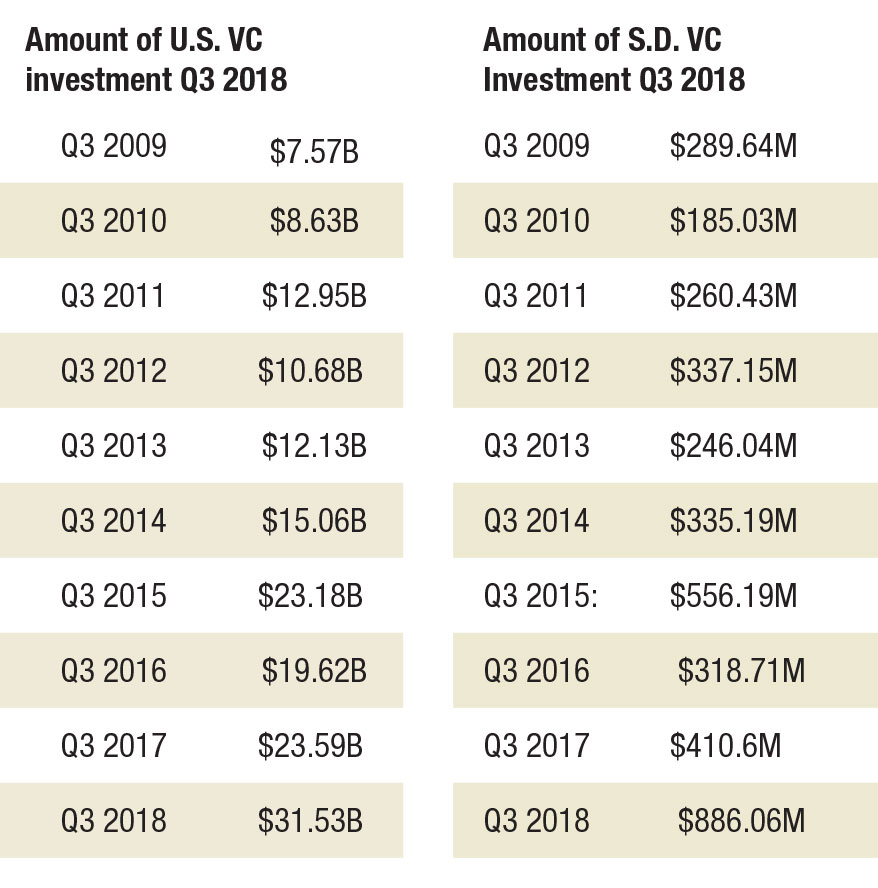 Locally, the total amount of investment reached $886 million, a 116 percent increase from the third quarter of 2017, while the number of financing rounds remained flat. Most of the gains were driven by a few big, late-stage investments in life sciences companies, said Tim Holl, a partner with Ernst & Young's San Diego office.
"In San Diego, we had a couple of large financings that have really driven the amount of investment," Holl said. "If you look at the national numbers, San Diego is somewhat of a microcosm of what we're seeing nationally. The number of deals was down but the amount of dollars raised was up."
An All-Time High for VC
Nationally, 1,377 financing rounds brought $31.53 billion in investment. According to Dow Jones, that brought venture capital investment to an all-time high; 17 percent above the peak of the dot-com bubble of the early 2000s. Compared to the same quarter last year, the amount of investment increased by 34 percent, or $7.94 billion. As with San Diego, the number of deals remained flat.
Fewer deals and smaller median deal sizes indicated that most of the funding was concentrated in a few, extremely large rounds, according to the report. Compared with the second quarter of 2018, the number of deals decreased 8 percent and the median deal size decreased 18 percent, from $7 million to $6 million.
In San Diego, the two top deals counted for the majority of investment in the third quarter. In August, local drug development startup Samumed raised $438 million in Series B funding from Vickers Venture Partners and Starling Ventures, LLC. Gossamer Bioservices Inc., a San Diego drug discovery company, came in second with $230.02 million in Series B financing.
Overall, the biotech industry brought in the lion's share of funding in San Diego, with $678.99 for the quarter. Following that, medical lab instruments saw $56 million, patient monitoring saw $45 million and consumer electronics saw $21 million.
Health Care Financing
"In San Diego, (health care) has been one of our strongest categories. That's been what's driving it," Holl said.
On a national level, he said health care financing narrowly outpaced technology companies, referring to a separate Ernst & Young report based on data from Crunchbase.

According to that data, the U.S. saw the most initial public offerings since 2014, with 167 total for the year. Much of that has been in health care, Holl said.

"That's driving investment on earlier stage companies… People are turning around and reinvesting capital. It goes back to where they benefitted from," he said. "That's helped drive the life sciences side. While we have some nice large, public tech companies, we haven't had a large tech company IPO in a number of years."