Hire Signals Co.'s Strong Stake in Future Transportation
Wednesday, October 24, 2018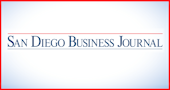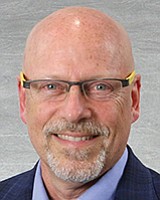 The coming of autonomous vehicles, as well as vehicles connected by radio, is a big deal for McCain Inc. The Vista-based company employs more than 500 people and specializes in advanced traffic control equipment, notably the electronics that run traffic signals.
McCain announced in July that it hired Mike Schagrin, who was previously the U.S. Department of Transportation's leader for autonomous and connected vehicles.
"Mike has been there at virtually every major point in the evolution of connected vehicle technology," said McCain Chief Operating Officer Greg McKhann in a prepared statement. "Bringing someone of his caliber on board reflects our commitment to helping lead the next generation of transportation. Mike Schagrin represents our fifth gear."
Connected and autonomous vehicles, by the way, are not one in the same. Autonomous vehicles have a collection of onboard sensors, cameras and radars which let them move through their environments with little or no help from a human. Connected vehicles trade information with other vehicles and with the road's infrastructure (which includes McCain traffic control equipment). Such information can help make the roadways safer.
Autonomous and connected vehicles "will operate in isolation for quite some time," said Schagrin, speaking on the phone from the national capital region.
McCain is part of connected-vehicle trials in San Diego County that have included Qualcomm Inc., Ford, Nokia and AT&T. The tests use a technology called cellular vehicle to everything (abbreviated C-V2X) and they are the first such trials in the United States. By now McCain's work with that project is over, Schagrin said.
Asked whether McCain has shown a return on its investment in connected and autonomous vehicles, Schagrin said that right now, the company has only to demonstrate progress. McCain is part of Swarco Group of Austria, and has operations in the United States and Mexico.
McCain Helps Remake Los Angeles Artery
McCain Inc. said Sept. 25 that it supplied 10 Advanced Transportation Controller (ATC) cabinets to Los Angeles' Figueroa Street streetscape project. Financial terms were not disclosed. The project, called MyFig, extends for four miles between downtown Los Angeles and a southern neighborhood that includes the University of Southern California, Exposition Park and the Memorial Coliseum. McCain said its model 351 ATC cabinets were installed at 10 very complex intersections, and let drivers safely share the corridor with pedestrians and bicyclists. The electronics gave the city "unprecedented flexibility" to add bicycle lights, pedestrian signals and detection as appropriate, the company said.