WHO WILL FOLLOW IN THE PHILANTHROPIC FOOTSTEPS OF THOSE WHO HAVE GIVEN SO MUCH TO SAN DIEGO?
A New Day For Donors
Monday, October 22, 2018
That person is out there: San Diego's next big donor, who will put a name on a major civic, arts or university building.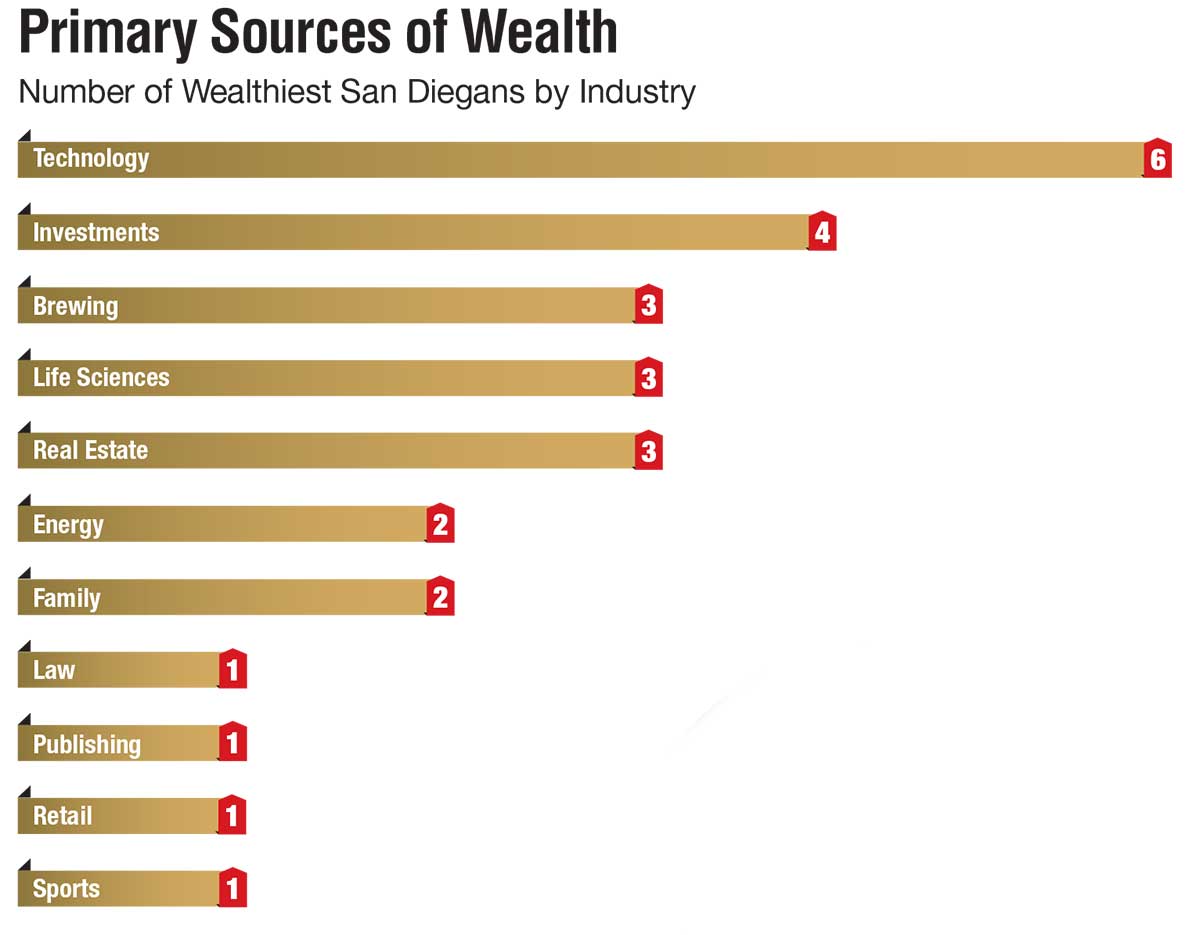 The conditions are right. There is need for charitable gifts in San Diego and California. Civic institutions are growing. The economy is robust. Philanthropy brings tax advantages and can offer a good feeling, or at least a feeling of righting wrongs.
Gary Jacobs, who has been a donor himself, said that a donor waiting in the wings is "certainly not limited to San Diego or the United States." Part of Qualcomm Inc.'s founding family, Jacobs is among 100 community figures helping UC San Diego in its current effort to raise $2 billion. The university's international reputation, he said, expands the circle of possible donors.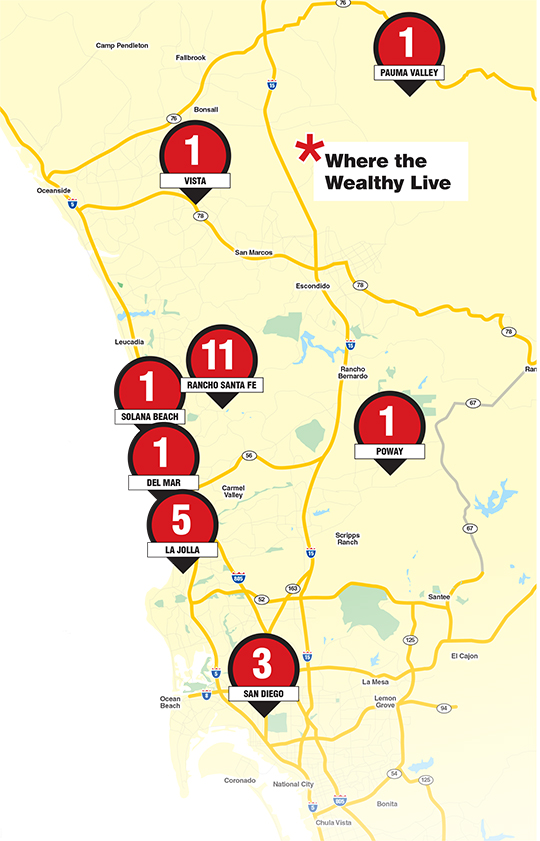 Not Getting Ahead of a Gift
Not surprisingly, the handful of development officials approached for this story would not come right out and say who they think their next big donor might be. Their world is one of tact and understatement.
Connie Matsui, interim CEO of The San Diego Foundation, said she expects to see more donors from San Diego's innovation sector. "Irwin Jacobs and his peers in the tech industry started the movement years ago. Now the next generation of tech and science executives is poised to join the ranks of impactful philanthropists," she said.
To find the next big donors, one needs to look for wealth creation, said Mary Walshok, the dean of UC San Diego Extension. A sociologist, Walshok wrote a soon-to-be-published study of San Diego philanthropy. People affiliated with big companies, or people exiting a business may be poised to give, she said. She suggested people who made fortunes in real estate, life sciences (given recent M&A activity) or even quick-service restaurants.
San Diego has a high percentage of gifts from living donors, Walshok said.
Recent gifts might offer some clue to who's next to give.
$13.8M Gift
Guy Clum, president of battery-maker Power-Sonic Corp. in Otay Mesa, gave $13.8 million to benefit early childhood education and development in San Diego. The San Diego Foundation announced the gift in September. Funds will support both early childhood programs and research into the space. Power-Sonic, founded in 1970, specializes in rechargeable batteries and distributes its products to 70 countries. The business also operates a plastics molding company in Tijuana.
In the last two years, UC San Diego reported major gifts from Andrew Viterbi; Taner Halicioglu; and Iris and Matthew Strauss. Viterbi, a co-founder of Linkabit and Qualcomm Inc., gave $50 million to UC San Diego Health's ophthalmology department. Halicioglu, an early employee at Facebook, gave UC San Diego $75 million. The Strauss family gave $1 million to UC San Diego's Moores Cancer Center to support clinical trials of a cancer vaccine.
In June, National University System announced a $100 million gift from Denny Sanford. The gift will go toward a social emotional learning program for children, meant to decrease stereotyping, bullying, aggression, school violence and poor gender relations.
Just who will follow these people?
Making Contributions
Two people likely being courted by local fundraisers are Alibaba co-founder Joe Tsai and his wife Clara Wu. Tsai splits his time between San Diego and Hong Kong. He owns the San Diego Seals lacrosse team, which will kick off its first season in December at the Valley View Casino Center in the Midway District. Forbes estimates his net worth at $8 billion.
The couple is among the founding donors to the Conrad, the La Jolla Music Society's new 500-seat performance space in La Jolla's village area, set to open in 2019. Wu sits on the board of the music society, and is also a trustee of another La Jolla institution, The Bishop's School.
The two have made large gifts to U.S. educational institutions, though the precise amounts have not been made public.
Wu and Tsai made the lead gift in the campaign to fund Stanford University's neurosciences institute, which announced this month that it would be renamed in their honor. Stanford said that recent gifts to the institute — from the United States, Asia and Europe — totaled nearly $250 million. Wu received her master's degree in international policy studies from Stanford.
Joe Tsai's alma mater, Yale University, announced in mid-2017 that it received a major donation from the Joe and Clara Tsai Foundation to build and support the Tsai Center for Innovative Thinking at Yale (or TsaiCITY). Tsai received his juris doctor from Yale Law School and his bachelor's degree from Yale College. The amount of the donation was not disclosed.
In mid-2017, Tsai made a major "transformational" gift to Lawrenceville School, a private boarding school serving 9th through 12th graders in Lawrence Township, New Jersey, midway between New York City and Philadelphia. The dollar value of the gift was not disclosed. It was billed as the largest gift in the school's 207-year history, and it will go toward an athletic center and a dining facility. Tsai graduated from the school in 1982 and sits on its board.
Community Needs
San Diego development officers also spoke about needs in the community. The San Diego Foundation's Matsui said the region could benefit from workforce development and increased representation of Hispanics in higher education. Hispanics are expected to be San Diego's largest ethnic group by 2030.
Like the other local colleges and universities, UC San Diego seeks funds not just for buildings or programs, but for scholarships. The cost for an in-state student to attend UC San Diego is now $31,000 per year. The university also works to keep housing prices down to 20 percent below market rate, said Assistant Chancellor Suzi Sterner.
Add one more variable to the question of who's the next person to put his or her name on a building.
Some donors prefer not to have their names on buildings, Walshok said. "There's a whole category of philanthropists who say, 'That is the last thing I would want.'"