TECH: CO.'S CORE BUSINESS IS SOLID; IT REJECTS MERGER
Analysts Eye New Leaders, Next Moves at Mitek
Wednesday, October 17, 2018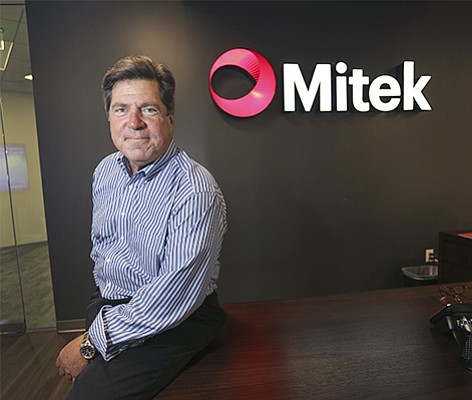 Mitek Systems Inc.'s stock has not fully recovered since the company announced the departure of two of its top executives, CEO James DeBello and chief financial officer
MITEK SYSTEMS INC
CEO: Jim DeBello
Revenue: $45.4 million in 2017
Net income: $14.1 million in 2017
No. of local employees: 130
Headquarters: Downtown San Diego
Year founded: 1986
Stock symbol and exchange: MITK on Nasdaq
Company description: Mitek is a software company best known for its work with mobile check deposits and identity verification.
Jeff Davison, on Aug. 28.

At market close on Oct. 10, Mitek's (Nasdaq: MITK) stock valued was at $7.74. It hasn't risen above $8 since the announcement, when it dropped from $8.50 at market close Aug. 27 to $7.50 the following day.
Timing may have also been a factor for the company when it reportedly received a takeover bid from Florida-based IT company ASG Technologies, backed by New York hedge fund Elliott Management Corp. Reuters reported Mitek had turned down the offer for an undisclosed amount earlier this summer, and another letter from ASG in early October seeking to open merger talks.

Mitek declined to comment.
C-Suite Departures
Analysts said they were not concerned about Mitek's core business but rather the abrupt and somewhat unexpected departure of the two executives.
"I think the concern with investors is who's at the helm … all of those things when you lose someone who's been there for a long time," said Bhavan Suri, a partner with Chicago-based financial services firm William Blair & Co. "The business continues to execute. I think things are fine there."
DeBello has worked with Mitek for 23 years, serving as its CEO for 15 of them. Early in his tenure with the company, he helped invent mobile deposit, the technology that allows users to deposit a check digitally simply by snapping a photo of it. His last day with the company is slated for Jan. 1, 2019.
Davison, who worked at Mitek for just over a year, will leave at the end of November.
Mitek affirmed both executives' departures did not stem from any disagreement with the company, and they appear to be two separate matters, despite the timing.
According to a statement from Mitek, Davison tendered his resignation to work for a firm closer to his home in Bozeman, Montana.
Mark Schappel, an equity research analyst with the Benchmark Co. in New York, said Davison had spent the last year commuting back and forth between Bozeman and San Diego, where there are no direct flights.
Prev Next