Contest Aims to Be Catalyst for Creating More Angel Investors
Tuesday, October 16, 2018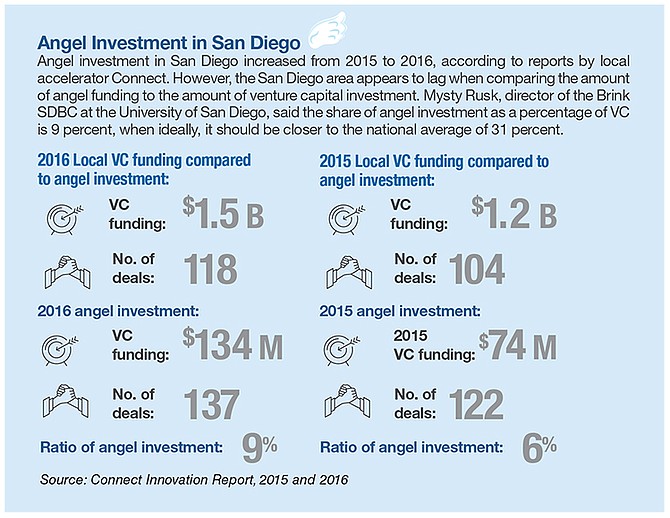 San Diego leaders are looking to build a pipeline of angel investors through a new pitch contest. Comparing angel investors, which often consist of well-connected individuals, or an entrepreneur's friends and family, and venture capitalists, which make much larger, organized investments, San Diego sees a smaller ratio of angel investment to venture capital than the national average.
Dollar-for-dollar, the amount of angel investment in the metro area equates to about 9 percent of venture capital investment. That amount should be closer to one-third of what VCs dole out annually, said Mysty Rusk, director of the Brink SDBC, the University of San Diego's new small business development center.

While Rusk said the amount of angel investment might be underreported, it's still a definite need for the San Diego area. To bridge the gap, she and other local entrepreneurial leaders launched the San Diego Angel Conference, which pairs first-time investors with experienced VCs.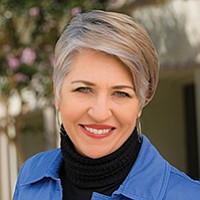 "We don't have a really good way for someone who has never invested before to step in easily," Rusk said. "Most investors, they really can't afford to play in that space. They're outpriced."
For example, managing a portfolio of 20 to 25 businesses costs about $625,000.
The conference will give first-timers a chance to dip their toe into investing at a much smaller cost: roughly $4,000 per person. Rusk hopes to bring in about 50 investors for a total cash investment of $200,000 that will go to the winning startup at the conference's pitch contest.
Rusk moved to San Diego to manage the Brink, which opened in January. She has done previous iterations of the conference in other communities, such as Corvallis, Oregon, where it spurred $6.5 million in deals the following year.

"It feels like the timing was right. As soon as I said it out loud, people got really excited," Rusk said. "It should have a pretty dramatic impact on investment fabric of San Diego, and it should enhance what everyone else is doing."
Rusk said the Brink is working with about 20 local partners to prepare for the event, including Connect and Hera Labs. While the Brink will run the event, the award fund will be managed separately, with Hera Labs CEO Silvia Mah serving as the fund manager.
Mah said she will focus her work on recruiting a diverse group of angel investors to participate, teaching workshops on investment and mentoring entrepreneurs.
"My goal is to create a solution for aspiring angel investors to 'try on' their wings by making a real investment in a vetted company at a low enough threshold of risk and total dollar amount; ultimately spurring the activation of new capital," Mah wrote in an email.  
The event will include additional resources for both investors and entrepreneurs leading up to the pitch event, which will take place on March 15, 2019. The deadline for entrepreneurs to apply is Dec. 17, 2018.
Rusk's ultimate goal is not just to fund one good company, but to better prepare startups to seek early investment, and teach more people how to invest.
"They get to work with each other, learn, and at the end, they get to vote on a deal and watch how it does over time," she said. "On other side of that, we get a whole bunch of investors involved that we've never seen before, and they fall in love with some of the products that didn't win."
"Our big overarching hope is that we get more active investors in the community," Rusk said.