New Palomar CEO Takes on Financial, Medical And Staffing Challenges
Sunday, October 14, 2018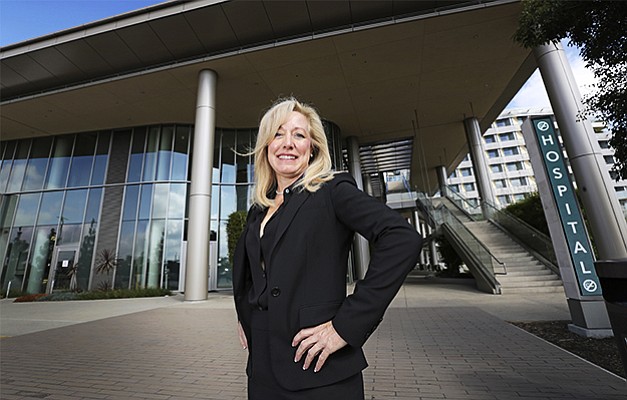 The word "interim" in a job title implies caretaker. Not to Diane Hansen, evidently.
Previously Palomar Health's chief financial officer, she became interim CEO last November. Sweeping changes were soon underway.
DIANE HANSEN
Title: President & CEO, Palomar Health
Prior positions: CFO, Palomar Health; director of financial operations for IU Health physicians network and ambulatory services, Indiana University Health; and director of cost and budget, WellPoint.
Pay: $800,000 base salary
Education: Accounting degree from University of Massachusetts Dartmouth
About a month into the job, Palomar reached a deal with the nurses' union, ending a 10-month impasse. A reorganization came in January that eliminated management positions, followed this summer by the resolution of Medicare issues that hung over the North County inland health system.
Citing accomplishments in a short span and a knack for listening, Palomar's board last month gave Hansen the permanent CEO role. Earlier in the year board members canceled a national search called after former CEO Bob Hemker retired last November.
PALOMAR HEALTH
2017 Financials: Revenue of $786.72 million; operating income of $6.03 million; net position of $216.3 million
Employee count: 4,200, including 900 physicians
Description: Palomar Health covers Escondido, Poway and additional North County inland communities. Its flagship is Palomar Medical Center Escondido, an 11-story, 740,000-square-foot hospital.
Taking On Challenges
"I really wanted to test my experience, my knowledge and my skillset," said Hansen of the role, adding she's sought to "put some of the ideas that I'd been thinking about for years into play."
While she's done much, Palomar still faces major financial pressures and added demand for mental health services after closures at North County's Tri-City Medical Center.
Drawn to numbers at a young age, the certified public accountant from Michigan joined Palomar in 2002. She rose to director of financial planning. In 2006, she left for Wellpoint, now part of insurance giant Anthem, and then Indiana University Health, coming back to Palomar as CFO in 2012.
"Even though I went to work for some pretty incredible organizations in the Midwest, there's just always something about working for Palomar Health that appealed to me. Ultimately I think it's the people," Hansen said.
The year of her return marked the opening of Palomar Medical Center Escondido, originally estimated to cost $531 million but ran $956 million.
That blew a hole in the budget, though Palomar in recent years made fiscal strides, including lifting its operating margins.
In fiscal year 2017 the health system posted operating income of $6.03 million — a figure arrived at by deducting expenses of $780.69 million from revenue of $786.72 million.
The prior year's operating income was about the same, much better than a $15.5 million operating loss in 2015. The health system has yet to post audited fiscal year 2018 financials.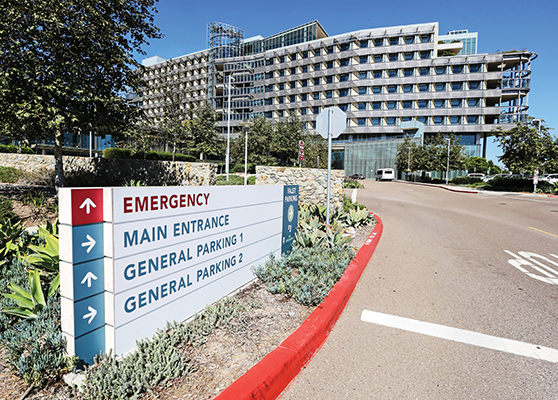 But a report looking at the period from S&P Global noted rising labor costs and weaker patient volumes offsetting some of the progress made in 2016 and 2017.

The report called out strong inpatient market share, tempered by a high debt load, but noted momentum in the final months of fiscal year 2018.
"Overall, Palomar's financial profile does remain pretty vulnerable," said Aamna Shah, associate director of healthcare at S&P Global, adding some of the health district's challenges are shared broadly.
The Balance of Care and Costs
Indeed, San Diego hospitals dealing with growing expenses and reimbursement struggles have pursued cost-cutting measures, reorganized and sought scale. Hansen and other hospital leaders have expressed how it's increasingly difficult for health systems to remain profitable while prioritizing the care of constituents.
For her, that became abundantly clear last December.
"I knew we were on an unsustainable path. And that if we didn't right size our overhead, we wouldn't continue in the way that we were accustomed to."
A series of planned changes were dependent on first locking in agreements with labor, she said.
By December, both nurse and caregiver unions had been working seven months without a contract, and several months earlier the nurses union dangled the possibility of a strike, saying the two parties remained far apart in negotiations.

Negotiating a Contract
Hansen was among those who sat at the negotiating table for four consecutive days. After hammering out a deal with the nurses, negotiations with caregivers wrapped up at 5 a.m. on a Saturday.
The four-year contracts gave pay raises to 3,000 employees, while allowing the hospital to rely way less on expensive contract labor and optimize scheduling. It also brought stability.
"I think largely they wanted to be heard, and I think they felt like my presence there meant that I was listening and paying attention," Hansen said.
A theme during a recent interview was listening. She encourages management to walk the halls and chat with employees, and said the most impactful leaders she's worked for gain a wide range of perspectives.
"You have to understand the pulse of the organization," she said. 
Building Rapport
Palomar board Chair Dara Czerwonka said Hansen has done just that, pointing to her ability to quickly build rapport.
Czerwonka lauded Hansen's leadership, including in July a resolution of Medicare inspection issues. Earlier safety inspections and re-inspections found Palomar didn't meet conditions required for being part of Medicare.
Not everyone was in favor of Hansen's two-year contract, which was approved in September and calls for an $800,000 annual base salary, with an added bonus if Hansen meets board goals. Board minutes show public speakers in favor of sticking with original plans for a national candidate search.

"It would have been, in my opinion, irresponsible to spend a quarter of a million dollars to most likely come to the same conclusion," Czerwonka said.
She added Hansen has clearly explained tough decisions and recommendations.
Layoffs and Staffing Concerns
Notably, Palomar since January has laid off 140 employees, though about 80 of them found other roles in the health system. Those who didn't were largely in management, part of reorganization that slimmed down the executive team and removed a layer of leadership.
But Palomar nurse and union representative Sue Phillips said recent caregiver layoffs exacerbated short staffing.
"We were optimistic when Diane Hansen became the CEO of Palomar, but we are disturbed by what appears to be, under her leadership, management's resistance to follow procedures outlined in the union contracts, such as taking into account nurses and caregivers concerns about patient care, which of course, is our number one priority," Phillips said in a statement.
Hansen said the hospital system had no choice but to bring down costs.
Palomar shared graphs showing operating income steadily rising from December to June, part of management's performance plan that S&P Global said improved finances in the final months of fiscal year 2018.
"We had long struggled with maintaining labor costs in accordance with our revenue," Hansen said. "If you're not changing and modifying your expense structure, you're never going to stay ahead of the game."
Revenue Growth a Priority
Revenue growth is a priority too. On that front is a 52-bed inpatient facility set to debut next year, a new medical office building and a potential partnership to strengthen oncology services.
Palomar should also get help from an injection of cash from selling the old Escondido hospital. In February, Encinitas developer Integral Communities agreed to pay $18 million for the 14-acre property, with escrow expected to close next year.

What's also approaching: a need for additional mental health operations.

Tri-City Medical Center — North County's other hospital system — recently closed its inpatient mental health and crisis stabilization units, citing regulatory and cost challenges.
As a result, Palomar lately experienced higher than average "5150s," law enforcement's code for a person deemed a threat to themselves or others and who is involuntarily held for up to 72 hours.
During one night in early October, Palomar facilities experienced 26 5150s, about double the norm, according to Hansen.
The health system is adding staffing for this population, and now has greater motivation to follow through on plans for a new behavioral health hospital. Early discussions with a partner call for up to 120 psychiatric beds.
Further support could come from UC San Diego, Tri-City and the county recently talking about a shared mental health resource.
Palomar loses about $12 million a year on behavioral health, which doesn't include certain patient costs, according to Hansen. If Palomar weren't providing these services, these patients would still turn up at its emergency rooms, creating inefficiencies.

But Hansen also framed the need in terms of responsibility.
"We have a responsibility as a district hospital system to provide the most comprehensive, high-quality care we can," she said. "The only way we can do that is to ensure our financial viability."
After the interview, she was seen near the entrance of the 740,000-square-foot Palomar Medical Center Escondido, stopping to chat with an employee.