With Eye On Expansion, Co. Consolidates Its Diverse Pharma Forces
Tuesday, October 9, 2018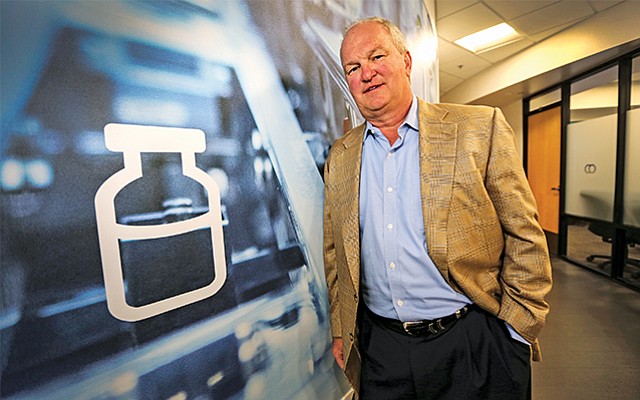 Japanese food and drug manufacturing giant Ajinomoto Group is reorganizing, placing three disparate drug-making businesses on three continents under one umbrella.
Driving the consolidation is customer demand, said David Enloe, CEO of the combined entity now known as Ajinomoto Bio-Pharma Services.
Customers want things to be simple, Enloe said. Previously a customer had to deal with Ajinomoto's San Diego and European operations as separate entities.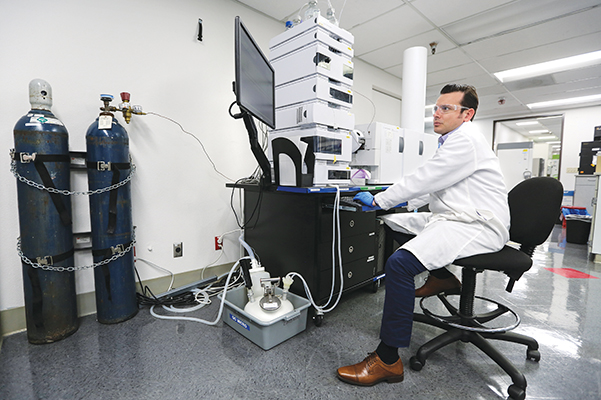 DAVID ENLOE
Title: CEO, Ajinomoto Bio-Pharma Services
Alma Mater: University of Texas at Austin
Community work: Volunteering with his church
Bucket list: "Travel, travel and travel"
Toward Future Growth
Consolidation is also a necessary step toward future growth. "We need to be more scalable and more ready for prime time," Enloe said.
Ajinomoto's business in Sorrento Mesa — which started life under the name Althea Technologies Inc. — is known in biotech circles as a contract development and manufacturing organization, or CDMO. It produces drugs for other companies. With 540 employees, it is San Diego's biggest CDMO. Althea took on its new name Oct. 2 along with Ajinomoto's operation in Belgium, formerly known as OmniChem.
The industry "talks a lot about M&A" in the contract manufacturing space, Enloe said. "Ajinomoto had done the 'A.' We just hadn't done the 'M' yet."
Taking a break from some personal errands on a recent Friday morning, Enloe joined a reporter on the patio of a Starbucks in San Diego's Clairemont neighborhood. Enloe was late to the interview because he had gone to the wrong Starbucks. "Good thing I do biotechnology and not Uber," he said, laughing.
Under the Umbrella
Ahead of him was a trip to Europe for a giant pharmaceutical conference as well as a visit to the Belgian plant. OmniChem, which Ajinomoto acquired in 1989, specializes in small molecule manufacturing. The San Diego plant specializes in large molecule manufacturing and aseptic fill finish services.
Next year, Ajinomoto's oligonucleotide manufacturing entity — GeneDesign of Osaka, Japan — will go under the same umbrella.
The company needs to be in a state where Ajinomoto can integrate additional acquisitions, Enloe said. "We continually look for opportunities that might make sense for us to broaden our footprint both geographically as well as capabilities-wise."
He's in discussions now, but he wouldn't give details.
"Given the continual need for outsourced manufacturing and the still fragmented vendor landscape, the CDMO industry is expected to remain a very attractive sector for M&A activity in the future," said a fall 2017 report from Ernst & Young.
The Beginning
Founded by Magda Marquet and Francois Ferre, Althea just marked its 20th anniversary. Ajinomoto — which had more than $10 billion in sales in its most recent fiscal year — bought the business in 2013 for about $175 million. Enloe recalled the San Diego operation had 230 employees when he arrived shortly after the sale.
Since then the company has grown. In late August, Ajinomoto formally opened a 57,000-square-foot manufacturing facility in Mira Mesa to complement its existing campus three miles away in Sorrento Valley. The company's new Antibody Drug Conjugate and Highly Potent Fill and Finish facility is at 6175 Lusk Blvd.
ADCs
Antibody drug conjugates, or ADCs, are a new product in the oncology space — one with a lot of promise.
Ajinomoto made a "significant investment" in building, equipping and staffing its new facility, Enloe said. "We're talking tens and tens, and tens of millions of dollars."
"A lot of the growth in that investment is based on the belief the ADC space will expand," he added. "… What we've seen so far is the ADC space is growing, it's here to stay, and importantly it has significant backing from the largest pharma companies in the world, as well as the typical startup companies that would typically enter a new class of medicine."
The facility has areas dedicated to bioconjugation, formulation, purification, quality control, and sterile fill and finish — including the freeze-drying process known as lyophilization.
Enloe said he expects to add 100 employees to Ajinomoto's San Diego CDMO operation in the next 12 months. "This year we've already hired nearly that number."
The plant offers San Diegans without doctoral degrees a way to enter the biotechnology industry, Enloe said. He added that San Diego is an attractive place for Bay Area residents to move.
CEO's Path
Enloe took an unconventional path into the world of biotech. A self-described "military brat," he grew up in several places. His parents had Texas roots, so he went to school at the University of Texas at Austin, where he studied accounting. Jobs in that field led to biotech. Enloe's career path included Introgen Therapeutics, a pioneer in viral-delivered gene therapy. When Enloe was CEO, Introgen's compound failed its phase III trials, and he had to take the company into bankruptcy.
A good deal of his biotech career has been in Texas, and now Enloe is a Texan in San Diego.
Enloe and his wife have four children. Now grown, they like to visit. "We're sort of a friends-and-family bed and breakfast," the CEO said.
The couple enjoys the outdoors and they volunteer with their church, leading classes for younger couples on marriage and parenting. Enloe plays golf, and his favorite local course is Aviara Golf Club in Carlsbad. "It is just a beautiful and relaxing place," he said. He also dives, and recently took a side trip from Japan to the Pacific island of Palau.
Growing up in a military family gave him a love of travel. "This coming trip (to Europe for the pharmaceutical conference), I'm able to take my father to see Normandy for the first time … and take my wife to the south of Spain," he said. "These are things that I can do on the weekends when I'm on these extended trips."
Enloe says he expects his business to grow in the coming year.
The phrase "a rising tide lifts all ships" particularly applies to the biotechnology industry in San Diego, he said. Success for one biotech in a city is good for all, whether it's in raising capital or drug approval, Enloe said.