Cubic Adds Jobs to Support Transportation Projects
Monday, October 8, 2018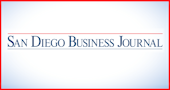 Cubic Corp. said that it is in the process of hiring 150 people in San Diego for new positions in its transportation business. The corporation also said it intends to add 250 jobs in two offices in the United Kingdom.
The moves come on the heels of $2 billion in recent contract wins for mass-transit fare collection equipment in New York; Boston; Brisbane, Australia; Sydney and the San Francisco Bay Area.
In an Oct. 4 announcement, Cubic (NYSE: CUB) also said it is working with San Diego city hall to upgrade its headquarters in Kearny Mesa to accommodate company growth. Cubic plans to finish construction in 2021.
Some of Cubic's most advanced mass-transit technology has been developed in London. In the recent announcement, Cubic transportation chief Matt Cole said he expects the company to upgrade San Diego's mass-transit system with advanced features seen in London's mass-transit system. The San Diego Association of Governments (SANDAG) is a longtime Cubic customer.
Cubic, with roughly $1.5 billion in annual sales, also has a defense electronics business.