Cannabis Market Keeps Growing Its Product Line
Sunday, October 7, 2018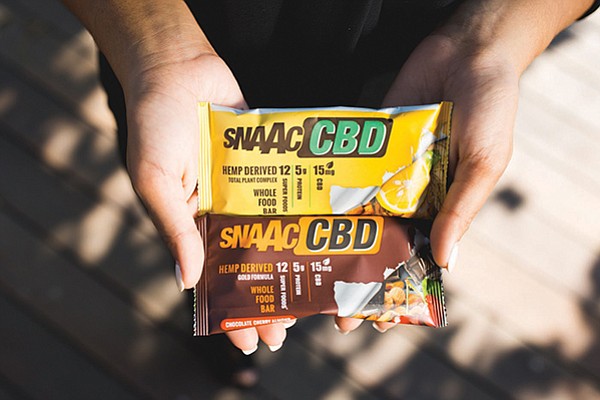 For those interested in testing the CBD and THC waters past smoking a joint or vaping, the San Diego cannabis market continues to expand with offerings that run the gamut from libations to caffeinated drinks to munchies — no pun intended.
In June, San Diego's Cannabiniers, a foodservice, technology and brand management company, expanded its portfolio with the addition of Two Roots Brewing Co., which makes non-alcoholic THC and CBD-infused craft beer, just a year after Cannabiniers launched Just Society, a line of CBD and THC-laden cold-brewed iced coffees, teas and cocoa.
Brewed in California and infused with THC and CBD in Nevada and California, Two Roots offers five styles, including Lager, Stout, New West IPA, Blonde Ale and Wheat. A "Tribute," cannabis-tasting beer will hit the market soon.
Early August, San Diego-based CV Sciences teamed up with Redlands-headquartered Snaac Bar for the launch of its hemp-based CBD sports bar: Snaac CBD. The bars are formulated with hemp cannabidiol (CBD) and are meant to improve athletic performance. The bars, which use PlusCBD Oil and include 12 superfoods, come in two flavors: chocolate cherry almond and lemon cream crisp.
This month, Torrey Holistics, a recreational and medical cannabis dispensary in Sorrento Valley, debuted its cannabis-infused Sauvignon Blanc from Rebel Coast, which dubs itself as California's first-ever THC "wine," with Torrey Holistics being its exclusive retailer.
The alcohol-free Sauvignon Blanc has 20mg of sativa-dominant THC — which is flavorless and odorless — and is made with grapes from Smoke and Mirrors Vineyard in Sonoma. The reason the white wine has no alcohol is because California marijuana regulations do not allow for cannabis to be combined with alcohol or tobacco. Each glass breaks down to 5mg of THC and has 35 calories.
CBD and THC are two of over 100 cannabinoids derived from the cannabis plant. While THC stimulates and activates psychological responses known as euphoria, CBD is not psychoactive, so it won't get users high. Instead, CBD is becoming vastly popular as of late because of potential benefits like relief from anxiety, joint pain, post-traumatic stress disorder, menstrual cramps, insomnia, nausea, seizures, bowel inflammation and moodiness.