2018 BEST PLACES TO WORK WINNERS: MEDIUM EMPLOYER CATEGORY (50 - 249 U.S. EMPLOYEES)
Employees Help Craft, Refine and Re-energize Company Culture
Thursday, October 4, 2018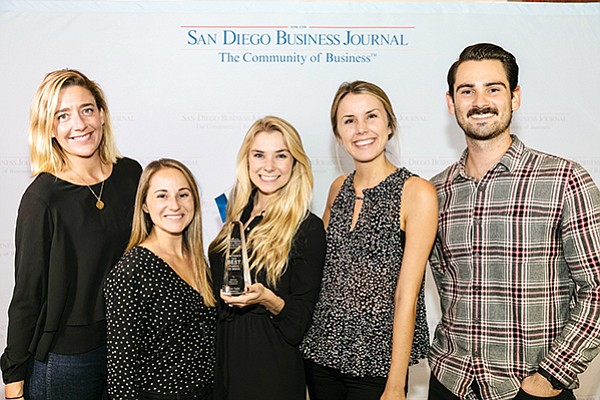 Perhaps its most unique benefit is a "Kaizen," a $1,000 budget for every employee to use in professional development. It can be applied toward anything that will support personal or professional growth, from tennis lessons to attending conferences or enrolling in a college or graduate-level class.
Employees vote on a monthly MVP award, and there is an FYF — a weekly email chain where employees shout out other team members who've gone above and beyond that week.
5. Bank of Southern California
Top local executive: Nathan Rogge, CEO and president
Address: 12265 El Camino Real, Suite 100, San Diego 92130
U.S. employees: 76
What they do: Locally based community business bank.
The Bank of Southern California has grown alongside the career of CEO Nathan Rogge, who was named SDBJ Most Admired CEO in 2018 for Public Companies. When he joined the bank it had one branch in Ramona; it now has 12 locations across Southern California.
The company celebrates holidays with parties and hosts events and contests to keep employees engaged and connected. Employees also are gifted access to a semi-private gym and have the option to exercise during lunch and/or before or after work.
There are all-staff lunches to celebrate milestone anniversaries and an annual summer staff appreciation outing for employees and their families at Petco Park.
The Bank of Southern California had a 2 percent voluntary employee turnover rate in 2017.
Prev Next