2018 BEST PLACES TO WORK WINNERS: MEDIUM EMPLOYER CATEGORY (50 - 249 U.S. EMPLOYEES)
Employees Help Craft, Refine and Re-energize Company Culture
Thursday, October 4, 2018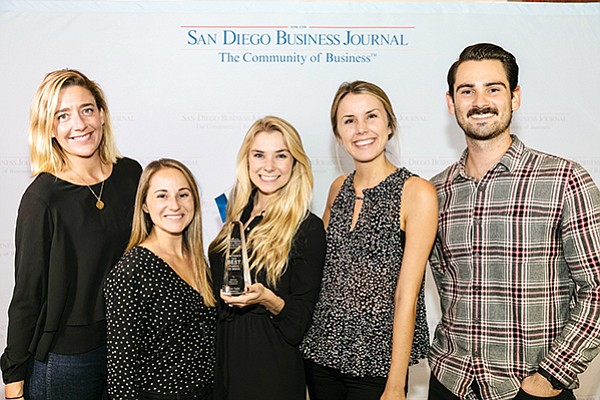 2. Hughes Marino
Top local executive: Jason Hughes, CEO
Address: 1450 Front St., San Diego 92101
U.S. employees: 82
What they do: Tenant representation and other CRE services
Hughes Marino in 2017 became the first company to be the No. 1 Best Place to Work in San Diego, Orange County and Los Angeles. The company also was named the top family-owned business in Orange County and has received numerous other honors.
The San Diego office downtown is an innovative workspace with a comfortable "living" space, including a large room with a flat screen TV, billiards, shuffleboard and Ping-Pong tables, gourmet kitchen, a putting green in the entertainment area, and an on-site gym with shower facilities. It also has a guitar and baby grand piano.
Hughes Marino provides nutritious groceries and monthly tournaments to promote a healthy dose of competition and stress release. Employees frequently get off early on Fridays and are given generous time off around holidays.
Owners Jason and Shay Hughes credit the employee-focused environment with helping the company grow beyond Southern California to the Bay Area, Seattle, Chicago and New York.
3. WestPac Wealth Partners
Top local executive: Nash Subotic, CEO
Address: 4275 Executive Square, Suite 800,
La Jolla 92037
U.S. employees: 206
What they do: Privately held wealth management firm that focuses on business owners, medical professionals and athletes.
This is WestPac's fifth consecutive appearance on the Best Places to Work list.
The local company offers flexible hours and a profit-sharing plan. It has a formal employee referral plan called "Be a Guardian Hero," which rewards employees with a bonus for every qualified introduction. They also recognize employees monthly for their outstanding performance.
Among the unique benefits is WestPac University, an annual one-day conference for employees to hear from speakers, be inspired and connect with one another. This year's event will be in Portland; the company encourages employees to stay to enjoy a long weekend away.
The company also has incentive trips for top performers, which include an all-expense paid trip to exclusive destinations around the world.
The companies also hosts a Christmas party for employees and spouses.
4. Seer Interactive
Top local executive: Francis Shovlin, Director of PPC
Address: 1200 F St.,
San Diego 92101
U.S. employees: 159
What they do: Digital analytics firm
Philadelphia-based Seer Interactive opened its San Diego office in 2013 and by 2017 was on the Best Places to Work list.
Seer offers paid parental leave for all new moms and dads, bonuses for employee referrals and has a profit-sharing plan. Each year the team votes on what to do for a daylong outing, and the company closes the office from Christmas Eve through New Year's Day.