2018 BEST PLACES TO WORK WINNERS: MEDIUM EMPLOYER CATEGORY (50 - 249 U.S. EMPLOYEES)
Employees Help Craft, Refine and Re-energize Company Culture
Thursday, October 4, 2018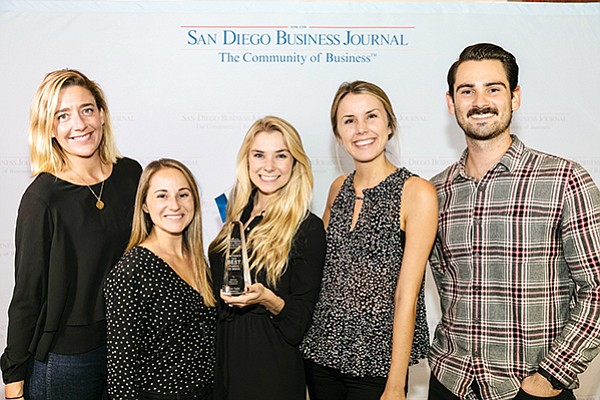 Power Digital Marketing's strong employee culture didn't just emerge.
The company took a proactive role in creating and driving it. Witness the company's culture committee, which meets once a month to brainstorm ideas and plan accordingly. Flowing from this are themed events — like bring your pet to work day — birthday celebrations, philanthropic events and a monthly social get-together.
This fosters employee buy-in for culture as they are the ones creating it. And suffice to say, the calendar is full of culture-building activities.
Along with the committee, Power Digital's generous benefits package includes pet insurance and healthy eating programs, capped by a wellness Wednesday that's complete with smoothie bar and catered health-centric lunches.
The company was named the San Diego Business Journal's Best Place to Work in the Medium-size category.
"I'm so honored to be working with the most incredible people, with the most incredible leadership," said Kate Lobel, director of public relations, in receiving the award. "Truly it's a one of a kind environment and we're just totally spoiled."
This marks the second time Power Digital Marketing secured a spot on the Best Places to Work list, having done so in 2016. In 2017, the company made INC.'s list by the same name.
Power Digital helps companies understand digital marketing and realize the opportunity gaps online within their industries. Power specializes in data-propelled digital marketing through core service offerings: content marketing, SEO, paid search, public relations outreach, web development and social media. Return on investment is at the core of offerings.
The company helps employees gain expertise in realms outside digital markets, too.
Lobel heard from several of her millennial peers that while they understood the nuances and terminology of their marketing specialty, when clients shifted into discussing other areas of business, they were not so comfortable.
So Lobel proposed a general business education program for the staff, and the company leadership said yes.
Lobel designed a course with 14 sessions held during off-hours (weekdays from 7-9 a.m.) on topics ranging from product development to financial metrics to legal. Some sessions are led by guest speakers; others from the firm's leadership. The curriculum includes preparation and quizzes.
Lobel said she would like to see everyone at the firm be able to "speak at a C-Suite level." She was hoping for a handful of their 54 employees to show up for the course. After a dozen of the sessions, 55 percent of the staff participated.
Prev Next