2018 BEST PLACES TO WORK WINNERS: MEGA EMPLOYER CATEGORY (2,000 OR MORE U.S. EMPLOYEES)
Swinerton Strives to Build Both the Team and Community
Wednesday, October 3, 2018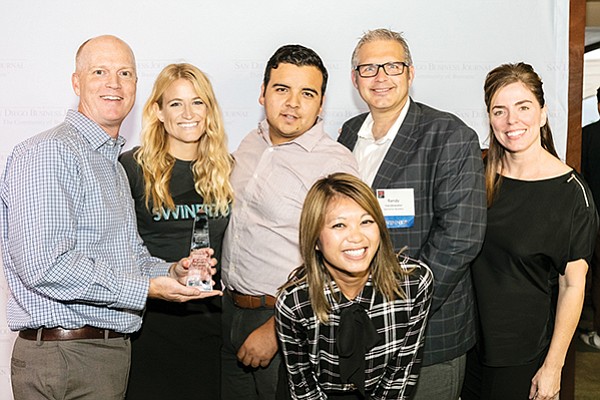 1. Swinerton
Top local executive: Mark Payne, VP and Division Manager
Address: 16798 W. Bernardo Drive, San Diego 92127
What they do: Commercial construction and renewable energy
For the third year in a row, Swinerton is taking home the top award for Best Place to Work in the Mega Employer Category.
"We're very proud of it," said Mike Berryhill, operations manager, upon receiving the award. "It goes out to all of our employees and the wonderful environment that everyone has created."
With almost 3,600 employees nationwide, Swinerton manages to be a mega-sized organization and yet friendly to the individual.
Commercial construction and renewable energy fill employees' workdays … but occasionally work takes a back seat. Employees organize in-office Ping-Pong matches and cornhole tournaments. Employees take time for monthly happy hours, outings to watch the San Diego Padres and the occasional party. The 92 Crew (that's the San Diego office's fun committee) recently staged a party featuring sumo wrestling in padded suits, among other attractions. And how many other San Diego employers have an office fishing trip?
Employee perks include catered lunch four days a week.
Those who would like to do good in the community can raise funds — beneficiaries include Susan G. Komen, American Heart Association and the San Diego Blood Bank — or take part in volunteer work at organizations such as PATH, San Diego Food Bank and Mama's Kitchen. The end of the year brings the Fall Giving Challenge, a competition between all divisions in volunteering and fundraising. Swinerton matches all contributions to all charities involved.
One notable initiative is Camp NAWIC, which introduces girls to careers in construction.
Swinerton, based in San Francisco, was founded in 1888. It now has 15 offices across the West and in Atlanta. The company's San Diego office, established in 1993, is now one of Swinerton's largest locations with more than 300 employees.
An employee-owned company, Swinerton annually awards stock to individuals who demonstrate significant contribution to the organization as well as an ownership mentality of accountability and quality in the workforce.
All employees are eligible for an end-of-year bonus … and there are bonuses given on the spot. The Swinerton Excellence Award differs from the annual award in that it can be given at any time to any employee as immediate recognition of outstanding efforts and demonstration of the company's core values in action.
Pride of ownership is a hallmark of Swinerton, which works to grow and maintain its own community while building for the community at large.
Prev Next