S.D.'s Gurtin Municipal Bond Management, With $14B in Assets, Bought by Pimco
Tuesday, October 2, 2018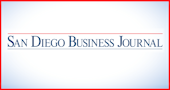 San Diego-based Gurtin Municipal Bond Management, which oversees $14 billion in assets for wealthy individual investors, is being bought by one of the world's largest money managers.
Newport Beach-based Pacific Investment Management Co. is buying the municipal-bonds specialist to expand its tax-exempt investments business. Terms were undisclosed.
Bill Gurtin, a former portfolio manager at Morgan Stanley for almost a decade, began his business in early 2008. He plans to join Pimco and remain "involved in the business for several years."
Gurtin Municipal Bond Management will be placed in Pimco's muni-bond arm, giving it a total of $38 billion in that business. Pimco has $1.7 trillion in assets under management,
The acquisition will allow Pimco to expand into muni strategies for high-net-worth individuals. Its current muni offerings mostly target institutional investors.
"Pimco's strategy is to grow mostly organically but we see exceptional value for clients in acquiring Gurtin, which is a premier muni investor with a like-minded culture that will enable us to provide clients with a more extensive and enhanced suite of muni strategies and services," Pimco Chief Executive Emmanuel Roman said in a statement.
When Roman joined Pimco in 2016, he said he would expand the company's offerings beyond its traditional focus on bonds for institutional investors into new markets. The acquisition is Pimco's first since he took over.
The transaction is expected to close this quarter. BofA Merrill Lynch acted as financial adviser, and Latham & Watkins acted as legal adviser to PIMCO. Goodwin Procter was legal adviser to Gurtin.
The Wall Street Journal initially reported the acquisition.